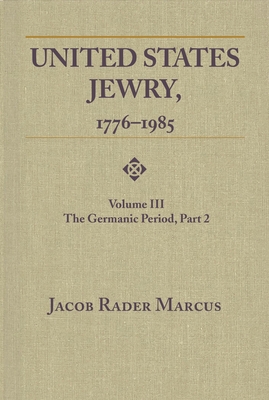 United States Jewry, 1776-1985 (Paperback)
Volume 3, the Germanic Period, Part 2
Wayne State University Press, 9780814344736, 963pp.
Publication Date: February 5, 2018
* Individual store prices may vary.
Description
In United States Jewry, 1776-1985, the dean of American Jewish historians, Jacob Rader Marcus, unfolds the history of Jewish immigration, segregation, and integration; of Jewry's cultural exclusiveness and assimilation; of its internal division and indivisible unity; and of its role in the making of America. Characterized by Marcus's impeccable scholarship, meticulous documentation, and readable style, this landmark four-volume set completes the history Marcus began in The Colonial American Jew, 1492-1776.

The third volume covers the period from 1860 to 1920, beginning with the Jews, slavery, and the Civil War, and concluding with the rise of Reform Judaism as well as the increasing spirit of secularization that characterized emancipated, prosperous, liberal Jewry before it was confronted by a rising tide of American anti-Semitism in the 1920s.
About the Author
Jacob Rader Marcus (1896-1995) was a scholar of Jewish history and a Reform rabbi.