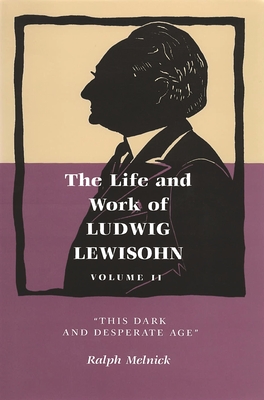 Life and Work of Ludwig Lewisohn, Volume II (Paperback)
This Dark and Desperate Age
Wayne State University Press, 9780814345047, 619pp.
Publication Date: February 5, 2018
* Individual store prices may vary.
Description
An imposing literary figure in America and Europe during the first half of the twentieth century, Ludwig Lewisohn (1882-1955) struggled with feelings of alienation in Christian America that were gradually resolved by his developing Jewish identity, a process reflected in hundreds of works of fiction, literary analysis, and social criticism.

This second volume portrays Lewisohn's last decades as an outspoken opponent of Nazi Germany, a leading promoter of Jewish resettlement in Palestine, a member of Brandeis University's first faculty, and one of the earliest voices advocating Jewish renewal in America. Despite his activism, Lewisohn was no longer welcome in Zionist circles by 1948 as a result of his "unacceptable" opinions concerning British intransigence, organizational politics, and, particularly, Jewish cultural and religious decline. However, the invitation to join the newly established Brandeis University as its only full professor provided him with the opportunity he sought to contribute to the reshaping of American Jewry. Lewisohn's efforts would later bear fruit in the Jewish renewal movement of the next generation.
About the Author
Ralph Melnick is the library director and religion instructor at Williston Northampton School. He is the author of The Stolen Legacy of Anne Frank.