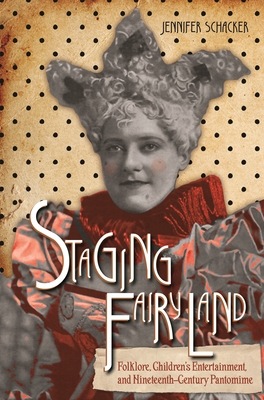 Staging Fairyland (Hardcover)
Folklore, Children's Entertainment, and Nineteenth-Century Pantomime (Fairy-Tale Studies)
Wayne State University Press, 9780814345917, 296pp.
Publication Date: December 17, 2018
Other Editions of This Title:
Paperback (12/17/2018)
* Individual store prices may vary.
Description
In nineteenth-century Britain, the spectacular and highly profitable theatrical form known as "pantomime" was part of a shared cultural repertoire and a significant medium for the transmission of stories. Rowdy, comedic, and slightly risqu?, pantomime productions were situated in dynamic relationship with various forms of print and material culture. Popular fairy-tale theater also informed the production and reception of folklore research in ways that are often overlooked. In Staging Fairyland: Folklore, Children's Entertainment, and Nineteenth-Century Pantomime, Jennifer Schacker reclaims the place of theatrical performance in this history, developing a model for the intermedial and cross-disciplinary study of narrative cultures.
The case studies that punctuate each chapter move between the realms of print and performance, scholarship and popular culture. Schacker examines pantomime productions of such well-known tales as "Cinderella," "Little Red Riding Hood," and "Jack and the Beanstalk," as well as others whose popularity has waned-such as, "Daniel O'Rourke" and "The Yellow Dwarf." These productions resonate with traditions of impersonation, cross-dressing, literary imposture, masquerade, and the social practice of "fancy dress." Schacker also traces the complex histories of Mother Goose and Mother Bunch, who were often cast as the embodiments of both tale-telling and stage magic and who move through various genres of narrative and forms of print culture. These examinations push at the limits of prevailing approaches to the fairy tale across media. They also demonstrate the degree to which perspectives on the fairy tale as children's entertainment often obscure the complex histories and ideological underpinnings of specific tales. Mapping the histories of tales requires a fundamental reconfiguration of our thinking about early folklore study and about "fairy tales": their bearing on questions of genre and ideology but also their signifying possibilities-past, present, and future. Readers interested in folklore, fairy-tale studies, children's literature, and performance studies will embrace this informative monograph.
About the Author
Jennifer Schacker is associate professor in the School of English and Theatre Studies at the University of Guelph and the author of National Dreams: The Remaking of Fairy Tales in Nineteenth-Century England Her collaborations with Christine A. Jones include Marvelous Transformations: An Anthology of Fairy Tales and Contemporary Critical Perspectives and Feathers, Paws, Fins, and Claws: Fairy-Tale Beasts (Wayne State University Press, 2015).