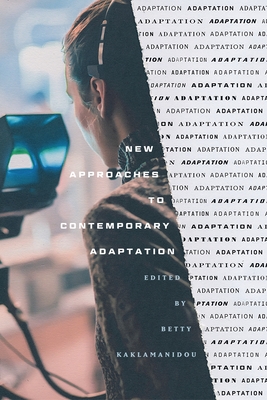 New Approaches to Contemporary Adaptation (Contemporary Approaches to Film and Media) (Hardcover)
Wayne State University Press, 9780814346242, 252pp.
Publication Date: November 17, 2020
Other Editions of This Title:
Paperback (11/17/2020)
* Individual store prices may vary.
Description
In New Approaches to Contemporary Adaptation, editor Betty Kaklamanidou defiantly claims that "all films are adaptations." The wide-ranging chapters included in this book highlight the growing and evolving relevance of the field of adaptation studies and its many branding subfields. Armed with a wealth of methodologies, theoretical concepts, and sophisticated paradigms of case-studies analyses of the past, these scholars expand the field to new and exciting realms.
With chapters on data, television, music, visuality, and transnationalism, this anthology aims to complement the literature of the field by asking answers to outstanding questions while proposing new ones: Whose stories have been adapted in the last few decades? Are films that are based on "true stories" simply adaptations of those real events? How do transnational adaptations differ from adaptations that target the same national audiences as the texts they adapt? What do long-running TV shows actually adapt when their source is a single book or novel? To attempt to answer these questions,
New Approaches to Contemporary Adaptation
is organized in three parts. Part 1, "External Influences on Adaptation," delves into matters surrounding film adaptations without primarily focusing on textual analysis of the final cinematic product. Part 2, "Millennial TV and Franchise Adaptations," demonstrates that the contemporary television landscape has become fruitful terrain for adaptation studies. Part 3, "ElasTEXTity and Adaptation," explores different thematic approaches to adaptation studies and how adaptation extends beyond traditional media. Spanning media and the globe, contributors complement their research with tools from sociology, psychoanalysis, gender studies, race studies, translation studies, and political science. Kaklamanidou makes it clear that adaptation is vital to sharing important stories and mythologies, as well as passing knowledge to new generations. The aim of this anthology is to open up the field of adaptation studies by revisiting the object of analysis and proposing alternative ways of looking at it. Scholars of cultural, gender, film, literary, and adaptation studies will find this collection innovative and thought-provoking.
About the Author
Betty Kaklamanidou is a Fulbright scholar and associate professor in Film and Television History and Theory at Aristotle University, Thessaloniki, Greece. She is the author of Easy A: The End of the High-School Teen Comedy? (2018), and co-editor of Contemporary European Cinema: Crisis Narratives and Narratives in Crisis (2018).