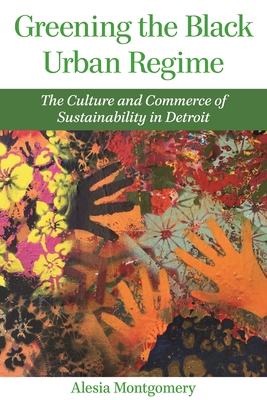 Greening the Black Urban Regime (Paperback)
The Culture and Commerce of Sustainability in Detroit (Great Lakes Books)
Wayne State University Press, 9780814346518, 312pp.
Publication Date: May 19, 2020
Other Editions of This Title:
Hardcover (5/19/2020)
* Individual store prices may vary.
Description
Alesia Montgomery's Greening the Black Urban Regime: The Culture and Commerce of Sustainability in Detroit tells the story of the struggle to shape green redevelopment in Detroit. Cultural workers, envisioning a green city crafted by direct democracy, had begun to draw idealistic young newcomers to Detroit's street art and gardens. Then a billionaire developer and private foundations hired international consultants to redesign downtown and to devise a city plan. Using the justice-speak of cultural workers, these consultants did innovative outreach, but they did not enable democratic deliberation. The Detroit Future City plan won awards, and the new green venues in the gentrified downtown have gotten good press. However, low-income black Detroiters have little ability to shape "greening" as uneven development unfolds and poverty persists.
Based on years of fieldwork, Montgomery takes us into the city council chambers, nonprofit offices, gardens, churches, caf?s, street parties, and public protests where the future of Detroit was imagined, debated, and dictated. She begins by using statistical data and oral histories to trace the impacts of capital flight, and then she draws on interviews and observations to show how these impacts influence city planning. Hostility between blacks and whites shape the main narrative, yet indigenous, Asian, Arab, and Latinx peoples in Detroit add to the conflict. Montgomery compares Detroit to other historical black urban regimes (HBURs)-U.S. cities that elected their first black mayors soon after the 1960s civil rights movement. Critiques of ecological urbanism in HBURs typically focus on gentrification. In contrast, Montgomery identifies the danger as minoritization the imposition of "beneficent" governance across gentrified and non-gentrified neighborhoods that treats the black urban poor as children of nature who lack the (mental, material) capacities to decide their future. Scholars and students in the social sciences, as well as general readers with social and environmental justice concerns, will find great value in this research.
About the Author
Alesia Montgomery, an urban ethnographer, is an independent researcher. She works as the subject specialist for sociology, psychology, and qualitative data at Stanford University. Her publications include articles in the International Journal of Urban & Regional Research, City & Community, Ethnography, Antipode, and Global Networks.