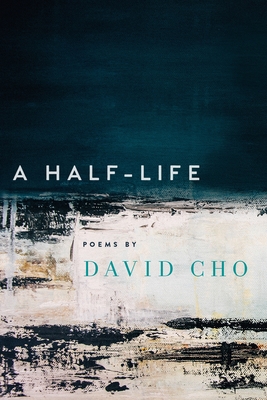 A Half-Life (Made in Michigan Writers) (Paperback)
Wayne State University Press, 9780814347577, 96pp.
Publication Date: June 9, 2020
* Individual store prices may vary.
Description
The theme of racial identity is central to David S. Cho's second collection of poems, A Half-Life. In science, the term "half-life" is used to describe aspects of radioactivity, volatility, and depletion of value. In Cho's tender collection, the term takes on the definition of instability-the unsteadiness; the sorrow and the joy-that must exist in bi-cultural lives. With this mix of autobiographical and fictional poems, Cho brings a new voice to Asian American life, particularly in the Midwest.
Made of up three parts, this collection offers the reader a glimpse into Korean American life through very personal stories. In part 1: The Hyphen, Chicago takes center stage, driving the reader through poems titled "Lake-Shore Drive," "94 East," "I-90," and more. The speaker is a passenger who is "the bastard child between a dash and nothing / the interrupted lines of a road." Cho unpacks these thoughts about being more than simply one thing, just as "there is more than corn in Indiana." The bulk of the book is made up of the middle fictional section, part 2: Poems for Harry Kim. This part follows the son of a Korean American immigrant through childhood and into young adulthood, producing stories of American life tinged with Korean customs which will both resonate with and enlighten readers. Readers see Harry juggling Korean traditions and American etiquette, eating bulgogi and kim chi with his parents after baseball practice, and constantly translating habits, behaviors, and language in his head. Part 3: Lullabies is a short section that wraps up the book nicely with a return to quiet but impactful lines about Cho's own son and thoughts on mortality. Here, themes of life and death are showcased as two more conflicting but remarkable worlds to be delicately traversed.
The feeling of being half from one world and half from another is driven home in this collection. Cho describes those who are "half there and half not / like the whistling wind interrupting the silence" and who tread "the line between two worlds" while navigating the stability and instability of Asian American life. Readers of identity poetics and those interested in the Asian American experience will be moved by this revelatory collection.
About the Author
David S. Cho was born and raised in the Chicago area, the proud child of Korean immigrants in the early 1970s. He is director of the Office of Multicultural Development at Wheaton College, and author of the chapbook Song of Our Songs; book of poems Night Sessions; and Lost in Transnation, a scholarly manuscript on twentieth-century Korean American novels.