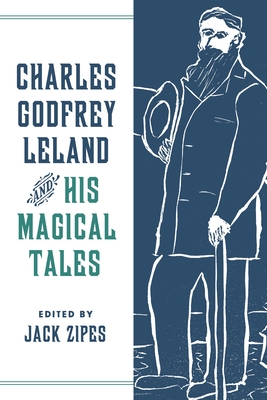 Charles Godfrey Leland and His Magical Tales (Fairy-Tale Studies) (Hardcover)
Wayne State University Press, 9780814347867, 188pp.
Publication Date: September 15, 2020
Other Editions of This Title:
Paperback (9/15/2020)
* Individual store prices may vary.
Description
Born into a wealthy and privileged family in Philadelphia, Charles Godfrey Leland (1824-1903) showed a clear interest in the supernatural and occult literature during his youth. Legend has it that, soon after his birth, an old Dutch nurse carried him up to the garret of the house and performed a ritual to guarantee that Leland would be fortunate in his life and eventually become a scholar and a wizard. Whether or not this incident ever occurred, we do know that his interest in fairy tales, folklore, and the supernatural would eventually lead him to a life of travel and documentation of the stories of numerous groups across the United States and Europe.
Jack Zipes selected the tales in
Charles Godfrey Leland and His Magical Tales
from five different books-
The Algonquin Legends
(1884),
Legends of Florence
(1895-96)
, The Unpublished Letters of Virgil
(1901),
The English Gypsies
(1882), and
Gypsy Sorcery and Fortune-Telling
(1891)-and has arranged them thematically. Though these tales cannot be considered authentic folk tales-not written verbatim from the lips of Romani, Native Americans, or other sources of the tales-they are highly significant because of their historical and cultural value. Like most of the aspiring American folklorists of his time, who were mainly all white, male, and from the middle classes, Leland recorded these tales in personal encounters with his informants or collected them from friends and acquaintances, before grooming them for publication so that they became translations of the original narratives. What distinguishes Leland from the major folklorists of the nineteenth century is his literary embellishment to represent his particular regard for their poetry, purity, and history. Readers with an interest in folklore, oral tradition, and nineteenth-century literature will value this curated and annotated glimpse into a breadth of work.
About the Author
Jack Zipes is professor emeritus of German and comparative literature at the University of Minnesota. His most recent books include The Giant Ohl and Tiny Tim, Fearless Ivan and His Faithful Horse Double-Hump, The Sorcerer's Apprentice: Tales of Wonder, and Johnny Breadless: A Pacifist Fairy Tale.