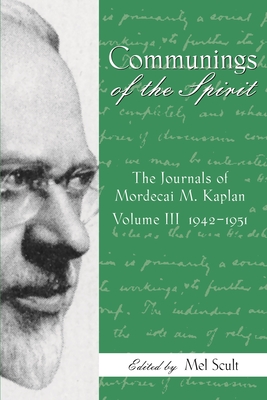 Communings of the Spirit, Volume III (Paperback)
The Journals of Mordecai M. Kaplan, 1942-1951
Wayne State University Press, 9780814348253, 442pp.
Publication Date: October 6, 2020
Other Editions of This Title:
Hardcover (10/6/2020)
* Individual store prices may vary.
Description
Mordecai M. Kaplan (1881-1983), founder of Reconstructionism and the rabbi who initiated the first Bat Mitzvah, also produced the longest Jewish diary on record. In twenty-seven volumes, written between 1913 and 1978, Kaplan shares not only his reaction to the great events of his time but also his very personal thoughts on religion and Jewish life. In Communings of the Spirit: The Journals of Mordecai M. Kaplan Volume III, 1942-1951, readers experience his horror at the persecution of the European Jews, as well as his joy in the founding of the State of Israel. Above all else, Kaplan was concerned with the survival and welfare of the Jewish people. And yet he also believed that the well-being of the Jewish people was tied to the safety and security of all people. In his own words, "Such is the mutuality of human life that none can be saved, unless all are saved."
In the first volume of
Communings of the Spirit,
editor Mel Scult covers Kaplan's early years as a rabbi, teacher of rabbis, and community leader. In the second volume, readers experience the economic problems of the 1930s and their shattering impact on the Jewish community. The third volume chronicles Kaplan's spiritual and intellectual journey in the 1940s. With candor and vivid detail, Kaplan explores his evolving beliefs concerning a democratic Judaism; religious naturalism; and the conflicts, uncertainties, and self-doubts he faced in the first half of the twentieth century, including his excommunication by the ultra-Orthodox in 1945 for taking a more progressive approach to the liturgy. In his publications, Kaplan eliminated the time-honored declarations of Jewish chosen-ness as well as the outdated doctrines concerning the resurrection of the dead. He wanted a prayer book that Jews could feel reflected their beliefs and experiences; he believed that people must mean what they say when they pray. Kaplan was a man of contradictions, but because of that, all the more interesting and significant. Scholars of Judaica and rabbinical studies will value this honest look at the preeminent American Jewish thinker and rabbi of our times.
About the Author
Mel Scult is professor emeritus at Brooklyn College, The City University of New York. He is the author of Judaism Faces the Twentieth Century: A Biography of Mordecai M. Kaplan (Wayne State University Press, 1993) and The Radical American Judaism of Mordecai M. Kaplan. He edited volumes 1 and 2 of Kaplan's journals from 1913 to 1941 (Wayne State University Press, 2001 and 2016) and his works have been published in Israel in Hebrew. He is co-founder and vice president of the Mordecai M. Kaplan Center for Jewish Peoplehood.