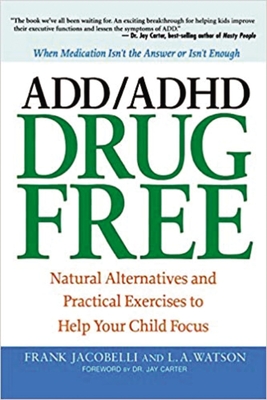 ADD/ADHD Drug Free (Paperback)
Natural Alternatives and Practical Exercises to Help Your Child Focus
Thomas Nelson, 9780814400944, 216pp.
Publication Date: July 1, 2008
* Individual store prices may vary.
Description
If you're the parent of a child with ADD/ADHD, you know just how much it affects his or her life-as well as yours. Your child may have trouble focusing, excelling in school, or even making friends. When your child suffers from this often-misunderstood disorder, you would do anything to alleviate his or her frustration. Drugs like Ritalin and Cylert are traditionally prescribed for ADD/ADHD, but their use is controversial. While many children have been helped by these medications, at best, pills only temporarily improve symptoms. Sometimes they don't work at all, and they can come with disturbing side effects such as weight loss, insomnia, and may even slow growth in younger children. ADD/ADHD Drug Free gives you the natural alternatives you've been waiting for. The first book to feature enjoyable, practical activities for children that will help them cope with their disorder by strengthening brain functioning, this life-changing guide shows parents, teachers, and counselors how they can improve learning and behavior effectively and without medication. Timely and thoroughly researched, this guide will help thousands of children become more focused and more successful in school and in life, without jeopardizing their health.
About the Author
Frank Jacobelli (Gardnerville, NV) has treated both children and adults in a variety of clinical settings including inpatient psychiatric, private practice, and community mental health. Since 1994, Jacobelli has served as a Clinical Coordinator for Enki Health and Research Systems, Inc. in Northern California. L.A. Watson (Gardnerville, NV ) has been an early-learning education director, multiple-subject teacher, special educator, special-education administrator, and resource specialist.