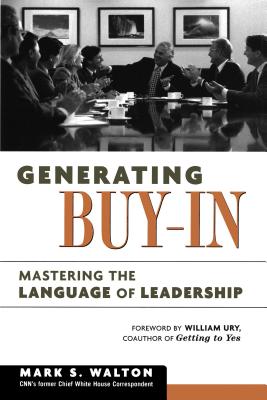 Generating Buy-In (Paperback)
Mastering the Language of Leadership
Amacom, 9780814409053, 128pp.
Publication Date: February 28, 2006
Description
"The power not just to persuade, but to inspire.
"Anyone interested in influencing fellow human beings can benefit from this book's wise and practical advice. It's a keeper " --William Ury, Harvard Law School, Coauthor of the best-selling "Getting to Yes"
The ability to influence people's thoughts and feelings, to generate their buy-in, has emerged as the paramount leadership skill. The strongest leaders are those who create a positive vision of the future, paint a ""big picture"" that generates action by tapping into people's emotions, ask for a commitment, and inspire their listeners to take steps toward the goal. "Generating Buy-In: Mastering the Language of Leadership" will help you master the powerful language that breeds such a commitment.
Through real-world case studies and exclusive interviews, Generating Buy-In imparts a revolutionary yet practical approach to:
* Crafting a strategic story that projects a positive future to your audience
* Speaking the language of buy-in with images that mold powerful thoughts and emotions in your listeners
* Putting the language to work in service of your goal -- whether the goal is to raise sales, inspire a work force, or win a Presidential election.
""This book unlocks secrets top leaders have applied through the ages. Instinctively you know that Mark Walton has hit the bulls-eye, because it feels right in your heart and your gut. Wonderfully simple and effective "" -- Ron Kirkpatrick, National Manager, Toyota Motor Sales, USA
Complete with examples, practical exercises, sample business scenarios, and a foreword by William Ury, coauthor of the best-selling "Getting to Yes," "Generating Buy-In" is an indispensable resource for leading and succeeding in today's fiercely competitive world
Advertisement