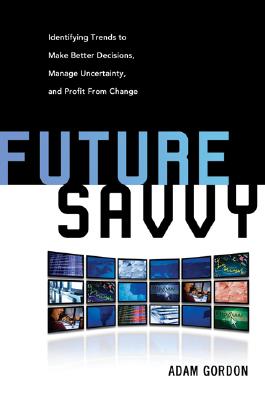 Future Savvy (Hardcover)
Identifying Trends to Make Better Decisions, Manage Uncertainty, and Profit from Change
AMACOM/American Management Association, 9780814409121, 294pp.
Publication Date: July 1, 2008
* Individual store prices may vary.
Description
In order to succeed in their industries, decision-makers today need to anticipate the future outcomes not only in their own industry but also in society and technology as well. The better their view of the future, the better their decisions--and the bigger their profits-will be. Future Savvy is a hands-on, how-to book on evaluating the business, social, and technology forecasts that appear in everyday communications such as newspapers and business magazines, as well as in specialized sources like government and think-tank forecasts, consultant reports, and stock-market guides. Futures analyst Adam Gordon has spent his career deciphering changes and trends in a variety of industries. Now, he shows business leaders how to gain a clearer view of the future, as well as:
- Recognize potential trends and outcomes more effectively
- Discount poor and biased forecasts more confidently
- Anticipate relevant opportunities and potential threats earlier
About the Author
Adam Gordon (Cardiff, Wales) is an expert in the field of industry foresight and future studies. He has been an analyst, consultant, facilitator, and professor, and has appeared on NPR's Morning Edition and CNN World Report. Gordon writes, teaches, and trains in-company strategy teams, and teaches industry foresight methods in various prominent Executive and MBA programs around the world. He was previously a Senior Associate at Coates & Jarratt, a future strategy consulting think-tank in Washington D.C.
or
Not Currently Available for Direct Purchase