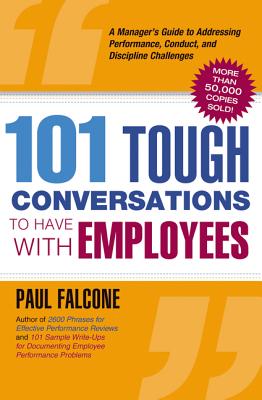 101 Tough Conversations to Have with Employees (Paperback)
A Manager's Guide to Addressing Performance, Conduct, and Dia Manager's Guide to Addressing Performanc
Amacom, 9780814413487, 320pp.
Publication Date: April 1, 2009
* Individual store prices may vary.
Description
Inappropriate attire, lateness, sexually offensive behavior, not to mention productivity and communication issues ... these are just a few of the uncomfortable topics bosses must sometimes discuss with their employees. 101 Tough Conversations to Have with Employees offers realistic sample dialogues managers can use to facilitate clear, direct interactions with their employees, helping them sidestep potential awkwardness and meet issues head-on. This practical, solution-oriented book walks readers through some of the most common-as well as the most serious-employee problems they are likely to encounter. Covering everything from substandard performance reviews to personal hygiene to termination meetings, this handy guide helps managers treat their people with dignity, focusing not just on what to say but also on how to say it. This helpful book provides proven techniques managers can use to protect themselves and their organizations...and get the very best from their people.
About the Author
Paul Falcone is a leadership & human resources consultant in Southern California and has held senior-level HR executive positions with Nickelodeon, Paramount Pictures, and Time Warner. He is the author of several best-selling books, including 2600 Phrases for Effective Performance Reviews, 2600 Phrases for Setting Effective Performance Goals, 101 Sample Write-Ups for Documenting Employee Performance Problems, 101 Tough Conversations to Have with Employees, and 96 Great Interview Questions to Ask Before You Hire, and. Paul's consulting practice focuses on effective hiring, performance management, leadership development, and strengthening the muscle of a company's frontline leadership team. He is a long-term contributor to HR Magazine. Visit him at www.PaulFalconeHR.com.