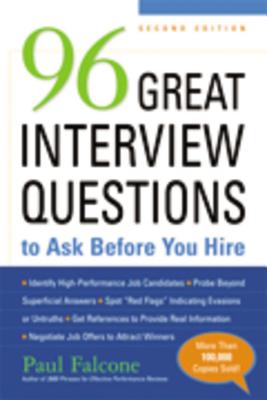 96 Great Interview Questions to Ask Before You Hire (Paperback)
Amacom, 9780814413517, 242pp.
Publication Date: November 1, 2008
* Individual store prices may vary.
Description
More than 100,000 copies sold Every harried interviewer knows the result of throwing out vague questions to potential employees: vague answers and potentially disastrous hiring decisions. Presented in a handy question-and-answer format, 96 Great Interview Questions to Ask Before You Hire provides readers with the tools they need to elicit honest and complete information from job candidates, plus helpful hints on interpreting the responses. The book gives interviewers everything they need to: identify high-performance job candidates * probe beyond superficial answers * spot "red flags" indicating evasions or untruths * get references to provide real information * negotiate job offers to attract winners Included in this revised and updated edition are new material on background checks, specific challenges posed by the up-and-coming millennial generation, and ideas for reinventing the employment application to gather more in-depth information than ever before. Packed with insightful questions, this book serves as a ready reference for both managers and human resources professionals alike.
About the Author
Paul Falcone is a human resources executive and has held senior-level positions with Nickelodeon, Paramount Pictures, and Time Warner. He is the author of several bestselling books, including 101 Sample Write-Ups for Documenting Employee Performance Problems, 101 Tough Conversations to Have with Employees, 2600 Phrases for Effective Performance Reviews and 2600 Phrases for Setting Effective Performance Goals. He is a long-time contributor to HR Magazine. Visit him at www.PaulFalconeHR.com.