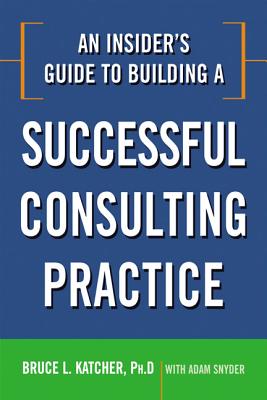 An Insider's Guide to Building a Successful Consulting Practice (Paperback)
Amacom, 9780814414361, 253pp.
Publication Date: March 10, 2010
* Individual store prices may vary.
Description
Whether you're a beginner just starting up a consulting practice, or a veteran looking for ways to invigorate your existing business, An Insider's Guide to Building a Successful Consulting Practice is an invaluable resource. Featuring real stories from consultants in diverse industries, the book offers simple yet powerful ways to: Identify a market and narrow your focus * Make a smooth transition from employee to independent consultant * Sell effectively even if you've never sold before * Establish visibility through speaking, writing, and networking * Build credibility by leveraging the credibility of others * Set prices based on value * Develop a marketing strategy and divide your time between marketing and delivering your services * Keep plenty of work in your pipeline * Adapt and thrive in any market condition * And much more Complete with the results of an original survey of 200 successful independent consultants, this handy guide provides the kind of real-life advice you need to build a thriving business.
About the Author
BRUCE L. KATCHER, PH.D., (Sharon, MA) is founder and president of The Discovery Consulting Group. His client list covers a broad range, from Fortune 500 names such as Revlon, Johnson & Johnson, Alcoa, and Merck to successful smaller companies. He is the author of the award-winning book 30 Reasons Employees Hate Their Managers (978-0-8144-0915-2).