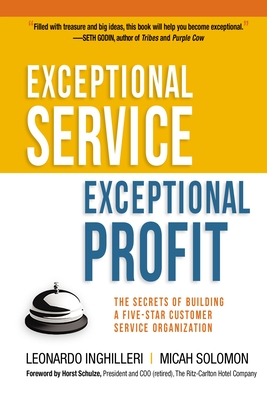 Exceptional Service, Exceptional Profit (Hardcover)
The Secrets of Building a Five-Star Customer Service Organization
Amacom, 9780814415382, 170pp.
Publication Date: April 7, 2010
* Individual store prices may vary.
Description
"Filled with treasure and big ideas, this book will help you become exceptional." - SETH GODIN In a tight market, your most powerful growth engine-and your best protection from competitive inroads-is this: put everything you can into cultivating true customer loyalty. Loyal customers are less sensitive to price competition, more forgiving of small glitches, and, ultimately, become "walking billboards" who will happily promote your brand. In Exceptional Service, Exceptional Profit, insiders Leonardo Inghilleri and Micah Solomon reveal the secrets of providing online and offline customer service so superior it nearly guarantees loyalty. Their anticipatory customer service approach was first developed at The Ritz-Carlton as well as at Solomon's company Oasis, and has since proven itself in countless companies around the globe-from luxury giant BVLGARI to value-sensitive auto parts leader Carquest, and everywhere in between. Now, readers can take the techniques that minted money for these brands and apply them directly to their own businesses. As Ken Blanchard writes, "Leonardo and Micah's philosophies, rules, and winning examples of service excellence will make you want to implement their suggestions immediately in your own organization." Filled with detailed, behind-the-scenes examples, the book unlocks a new level of customer relationship that leaves your competitors in the dust, your customers coming back day after day, and your bottom line looking better than it ever has before.
About the Author
LEONARDO INGHILLERI (Roswell, GA) is Executive Vice President and Managing Partner of West Paces Consulting. A recognized expert on service, Inghilleri created The Ritz-Carlton Leadership Center and Learning Institute and has played an instrumental role at The Ritz-Carlton Hotel Company, BVLGARI, and The Walt Disney Company. MICAH SOLOMON (Philadelphia, PA) is Founder and President of Oasis Disc Manufacturing, a leader in the entertainment and technology industries. A sought-after business advisor and speaker, his techniques and achievements have been featured in Success magazine, Seth Godin's bestseller Purple Cow, and other publications.