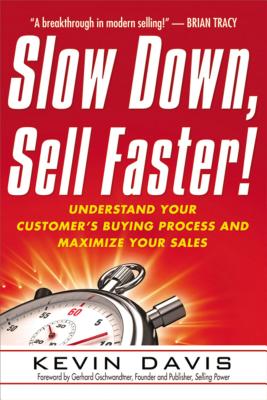 Slow Down, Sell Faster!
Understand Your Customer's Buying Process and Maximize Your Sales
Paperback

* Individual store prices may vary.
Description
The biggest mistake salespeople make in their careers is equating a faster pitch with a faster close. Author Kevin Davis shows readers how to slow down and focus on the customer buying process, so they can identify and quantify customers' real needs--and adapt their sales pitches accordingly. Slow Down, Sell Faster does this by introducing a simple yet powerful method for buyer-focused selling that is practical, repeatable, and easily customizable. This buyer-focused approach extends to proposals and presentations, loyalty and retention, and, of course, cultivating more business. Each step in the book corresponds to a role you should adopt to meet customers' needs at each stage of the buying process. Increasing sales is not just about learning more sales techniques; it's about understanding the buying process--from your customer's point of view. Packed with examples from the author's extensive experience and detailed research on customer buying patterns, Slow Down, Sell Faster offers an alternative to traditional selling that leads to increased sales--and happier customers.
Amacom, 9780814416853, 259pp.
Publication Date: January 5, 2011
About the Author
KEVIN DAVIS is president of TopLine Leadership, a sales and sales management training company. His revolutionary eight-step process is used at Citigroup, ADP, Bayer, Sprint-Nextel, IKON Office Solutions, Global Imaging Systems (a XEROX company), and dozens of other Fortune 500 companies.