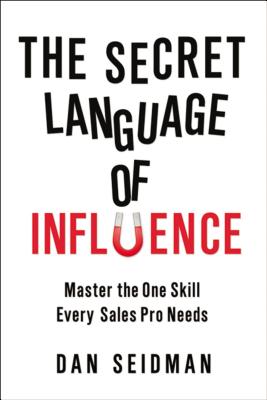 The Secret Language of Influence (Paperback)
Master the One Skill Every Sales Pro Needs
Amacom, 9780814417263, 208pp.
Publication Date: April 11, 2012
* Individual store prices may vary.
Description
Great selling is invisible. Influence occurs at a level just below the buyer's awareness. That's important because today's buyer is savvy and all too familiar with traditional selling techniques. However, a few simple words-the right words-can transform an awkward sales call into a comfortable conversation and a resistant prospect into a happy customer. Some people, for example, want to hear about the money they'll save, while others respond to the pain they'll avoid. By identifying different ways buyers are motivated, salespeople can quickly customize their conversations and lead prospects to "yes." The Secret Language of Influence reveals the best ways to approach buyers who are: Motivated by benefits vs. problems * Proactive vs. reactive * Big-picture vs. detailoriented * Systems thinkers vs. creative minds * Influenced by external feedback (testimonials, evidence) vs. internal factors (feelings, personal experiences, beliefs) From the use of storytelling, humor, and emotion-evoking language to words to avoid and questions that advance the sale, this entertaining and practical book demonstrates the power of words to break down resistance and change buyers' minds.
About the Author
DAN SEIDMAN is a globally recognized speaker, consultant, and trainer on selling and influence. He is the author of Sales Autopsy, and his regular columns reach more than 2 million readers monthly online and in print.
or
Not Currently Available for Direct Purchase