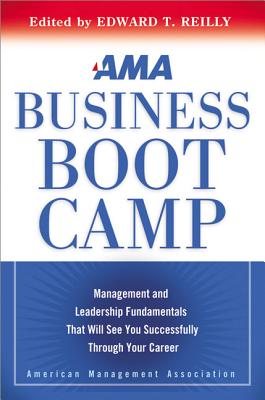 AMA Business Boot Camp (Hardcover)
Management and Leadership Fundamentals That Will See You Successfully Through Your Career
Amacom, 9780814420010, 236pp.
Publication Date: December 5, 2012
* Individual store prices may vary.
Description
Professionals today, whether they are new or seasoned, need a solid foundation of essential skills in order to keep pace with the speed of change. The American Management Association, the preeminent provider of business education worldwide, trains the majority of the Fortune 500 companies in competitive business skills. Now, for the first time, AMA has assembled the most critical, "must-have" skills for managers and leaders in one handy volume. AMA Business Boot Camp paves the way for readers to: * Motivate, increase morale, and enhance productivity * Manage organizational change * Improve their ability to communicate and influence others * Screen, evaluate, and select corporate strategies * Conduct effective performance reviews * Protect themselves against the pitfalls of intra-organizational politics * And much more Covering everything from management and leadership to project management and strategy, this one-of-kind reference serves as a crash course in the fundamentals required for lasting success.
About the Author
EDWARD T. REILLY Editor of "AMA BUSINESS BOOT CAMP" Edward T. Reilly has been the 17th President and Chief Executive Officer of the American Management Association, International since June 2001. AMA (amanet.org) is the world's leading not-for-profit, membership-based management development, research and publishing organization. Each year, AMA directly interacts with over 100,000 managers and executives in the United States and around the world, through its renowned management education seminar programs and conferences. It publishes many newsletters, research papers and a quarterly management journal. Through its publishing arm, AMACOM, it publishes over 70 books per year. AMA produces hundreds of webcasts and podcasts that reach over a quarter million managers around the world each year. AMA is the parent company of Management Centre Europe (MCE.be), a leading pan-European business management education institution for middle and senior executives. Management Centre Europe has been located in Brussels for 40 years. AMA also maintains operations in Canada, Mexico, Japan and China, with affiliated organizations in Turkey, United Arab Emirates, Singapore, Malaysia, Thailand, Korea and Australia. AMA's organizations are distinguished by the quality of their faculty of global business practitioners, the practical action-oriented focus of their learning programs, and the dynamic, interactive nature of their courses. To further expand AMA's vast footprint, Ed served as editor of AMA BUSINESS BOOT CAMP: "Management and Leadership Fundamentals That Will See You Successfully Through Your Career" (AMACOM 2013). "It is my hope that this book will be an introduction to the principles of effective, efficient management and leadership for some of the people we don't yet touch," Ed states, "and that the collective skills they begin to develop through the exposure to these ideas will help them and their organizations." Ed previously served as President and Chief Executive Officer of Big Flower Holdings, Inc., a leading provider of integrated marketing and advertising services. Under his four-year leadership, revenues at Big Flower Holdings increased from approximately $1 billion to nearly $1.9 billion. The NYSE-listed Company broadened its services and made numerous acquisitions, specializing in newspaper insert advertising, individualized direct mail, digital asset management and application software for the broadcasting and advertising agency industries. In December of 1999, the Company was sold to a group of private equity investors. Prior to joining Big Flower Holdings, Ed spent over 25 years with the book publishing and broadcast groups of The McGraw-Hill Companies, holding the following positions: Editor in Chief of the Accounting, Computing and Data Processing Department of Gregg Community College Division; Chief Financial Officer of the California Test Bureau; General Manager of the Instructo Corporation; Group Vice President for Europe, Africa and The Middle East; Group Vice President for McGraw-Hill Training Systems; the Executive Vice President of the McGraw-Hill International Book Company. In 1987, Ed became the President of The McGraw-Hill Broadcasting Company and during that time, also served as Chairman of the Board of the Television Bureau of Advertising (TVB), and Chairman of the Board of the Association for Maximum Service Television (MSTV) when the technology platform for digital broadcasting and high definition television was developed and approved by the FCC. He served as a Board member of the National Association of Broadcasters (NAB) and is a past Chairman of The Advertising Council, the world leader in public service advertising. Currently, Ed serves on the following Boards: USO Metropolitan New York; Immediate Past Chairman of the USO World Headquarters Board of Governors; Co-Chairman of the USO Operation Enduring Care Campaign; Member of the North American Advisory Board of the UCD Michael Smurfit School of Business in Dublin; Fellow of the International Academy of Management; Member of the United States Advisory Board of IESE Business School, Barcelona, Spain; International Counselor of the Institute of International Education and Fellow and past Chairman of the Royal Society of Arts in the U.S.. Ed holds a Bachelor's Degree in Business Administration from St. Francis College, New York, and attended the Stanford Executive Program. He resides in Westport, Connecticut, with his wife, Susan.
or
Not Currently Available for Direct Purchase