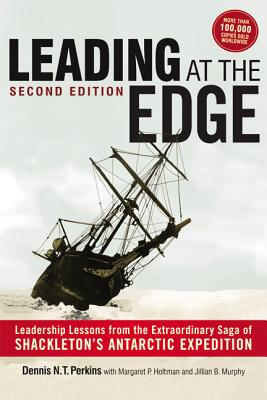 Leading at the Edge (Paperback)
Leadership Lessons from the Extraordinary Saga of Shackleton's Antarctic Expedition
Amacom, 9780814431948, 256pp.
Publication Date: March 28, 2012
* Individual store prices may vary.
Description
For the 100th anniversary of the Race to the South Pole, a fresh look at what Shackleton's legendary Antarctic adventure can teach us about true leadership. Stranded in the frozen Antarctic sea for nearly two years, Sir Ernest Shackleton and his team of 27 polar explorers endured extreme temperatures, hazardous ice, dwindling food, and complete isolation. Despite these seemingly insurmountable obstacles, the group remained cohesive, congenial, and mercifully alive-a fact that speaks not just to luck but to an unparalleled feat of leadership. Drawing on this amazing story, Leading at The Edge demonstrates the importance of a strong leader in times of adversity, uncertainty, and change. The book reveals 10 timeless leadership lessons that show readers how to: * Instill optimism while staying grounded in reality * Have the courage to step up to risks worth taking * Consistently reinforce the team message * Set a personal example * Find something to celebrate and something to laugh about * Never give up Part adventure tale, part leadership guide, the second edition features additional lessons, new case studies of the strategies in action, tools to uncover and resolve conflicts, and expanded resources. An updated epilogue compares the leadership styles of the famous polar explorers Shackleton, Amundsen, and Scott. Today's leaders have much to learn from this gripping account of survival against all odds. Leading at The Edge will help them bring order to chaos-and achieve success in the face of adversity.
About the Author
DENNIS N.T. PERKINS, PH.D. is the chief executive officer of The Syncretics Group, a consulting firm dedicated to effective leadership in demanding environments. He has taken his passion for The Edge to Antarctica, where he retraced Shackleton's journey. MARGARET P. HOLTMAN and JILLIAN B. MURPHY are consultants specializing in leadership, coaching and team development.