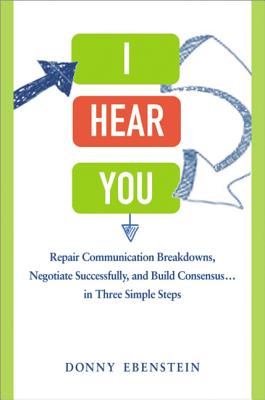 I Hear You (Hardcover)
Repair Communication Breakdowns, Negotiate Successfully, and Build Consensus... in Three Simple Steps
Amacom, 9780814432198, 273pp.
Publication Date: December 10, 2013
* Individual store prices may vary.
Description
Birth, death, and conflict-three things you truly can't avoid. Whether it's big or small, conflict eats into productivity and makes people feel stuck. Yet solutions exist for even the toughest situations with the most intractable people. The answer lies in better communication-not just using different words, but rather learning to think differently. I Hear You supplies proven techniques for stepping outside one's point of view and seeing things from other perspectives. Sample dialogues show how this shift in thinking leads to better conversations and greatly improved outcomes. Readers learn how to: * Tell the other person's story-the cornerstone of real engagement * Look from the outside in and see themselves as others do * Recognize the role systemic factors play-and transform a conflict into a shared challenge * Overcome the defense mechanisms that derail dialogue For anyone trying to negotiate a difficult situation with a boss, colleague, employee, or client, I Hear You changes opposition into understanding and mere talk into real trust.
About the Author
Donny Ebenstein is an international expert in negotiation, communication, and conflict resolution. Beginning in 1996, Donny worked in the Middle East. During that time he co-founded the Jerusalem Mediation Institute, one of the first mediation centers in Israel. Donny's work in the Middle East included training for the Israel Defense Forces on how to collaborate more effectively on joint patrols with their Palestinian counterparts, and joint workshops for Israeli and Palestinian Border Crossing Staff on skills for resolving conflict. In 2000, Donny formed Ebenstein Consulting Incorporated to serve clients in negotiation, communication and conflict resolution. He has worked with professionals of all levels of seniority, from recent college graduates to partners, directors, and the top levels of management. Donny is a graduate of Harvard Law School and holds a BA in Psychology from the University of Michigan.