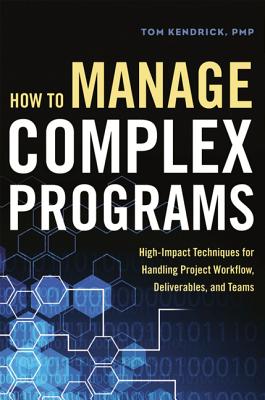 How to Manage Complex Programs (Hardcover)
High-Impact Techniques for Handling Project Workflow, Deliverables, and Teams
Amacom, 9780814436929, 336pp.
Publication Date: May 10, 2016
* Individual store prices may vary.
Description
Projects require managers. Programs require maestros. Program manager-it's one of the most challenging jobs you can have. Overseeing and coordinating multiple project teams and thousands of activities may seem a Herculean task, but it's easier with the right tools in hand. Successful program management begins with a good command of project management processes, but these are never sufficient. Once a program exceeds a certain scale, project processes become unwieldy. To see a program successfully through to completion, you must break the work down into simpler, smaller pieces and organize it into interdependent tasks. Complete with diagrams, graphs, and real-life examples, How to Manage Complex Programs explains the ins and outs of program management and provides concrete and effective techniques for structuring deliverables, workflow, and staffing. You'll learn to: Decompose complex deliverables into manageable chunks * Develop coherent plans for component projects * Handle cross-project dependencies * Organize program staff and project leaders into a high-performing team * And more Yes, program management is challenging. But with these proven strategies, it can also be highly rewarding-for you and for your organization.
About the Author
TOM KENDRICK, PMP, has nearly 40 years' experience practicing and teaching project and program management, including senior positions with Hewlett-Packard and Visa. He is the author of Identifying and Managing Project Risk and other popular titles.