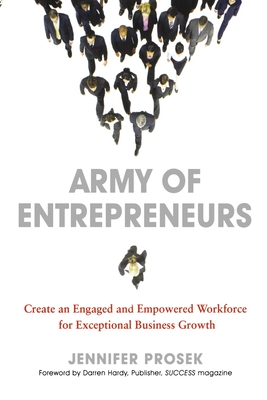 Army of Entrepreneurs (Paperback)
Create an Engaged and Empowered Workforce for Exceptional Business Growth
Amacom, 9780814436967, 224pp.
Publication Date: February 2, 2011
* Individual store prices may vary.
Description
Imagine the benefits to be gained from a pool of employees who act as though they own the business: greater motivation, increased productivity, and a supercharged desire to succeed. As a young entrepreneur who turned a small PR business into a highly successful, international communications firm, Jennifer Prosek has experienced firsthand the power of instilling an "owner's mind-set" in every employee. In Army of Entrepreneurs, Prosek presents an easy-to-follow action plan any company--large or small--can use to build a workforce dedicated to generating new business, creating new products and services, and sustaining growth. Filled with inspiring examples, the book shows readers how to: - Motivate, train and reward their employees - Provide everyone from interns to executives with the skills and support they need - Refresh and evaluate the program over time for continuous results Great businesses aren't built by a single leader or rainmaker. This book shows how to transform any workforce into a profit-generating army and reap the rewards.
About the Author
JENNIFER PROSEK is the founder and CEO of CJP Communications, an award-winning international public relations and financial communications consultancy with offices in New York, Connecticut, and London. In 2009, Prosek was named an "Emerging Power Player" by "PR Week" magazine. CJP Communications was recognized as one of the "Top Places to Work in PR" by "PR News" in 2009 and named "Small Agency of the Year" in 2008 by "The Holmes Report."