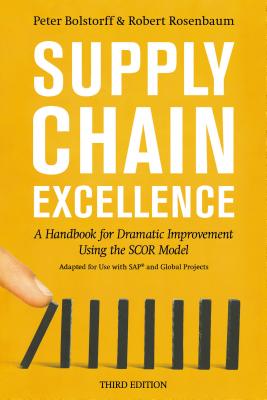 Supply Chain Excellence (Paperback)
A Handbook for Dramatic Improvement Using the Scor Model
Amacom, 9780814437537, 304pp.
Publication Date: December 11, 2011
* Individual store prices may vary.
Description
The Supply Chain Operation Reference framework is a proven solution to the ever-present business struggle of strengthening and improving company-wide processes. This leading cross-industry model for maximizing efficiency provides readers with a lasting competitive advantage, revealing the key to achieving flawless production in a compressed timeline. By incorporating the proven Supply Chain Council DCOR and CCOR models to expand the process scope, Supply Chain Excellence offers a comprehensive look at the entire value chain process and provides readers with a step-by-step guide for implementing an improvement strategy that will help their organization succeed. With examples and insights from nearly one hundred supply chain improvement projects to draw from, readers will learn how to: identify the causes of misalignment in their company; utilize a scorecard to analyze and evaluate their current processes; strategize, prioritize, and implement a new method; incorporate management techniques such as Six Sigma and Lean; and quantify the financial value of supply chain improvement. The completely updated third edition of Supply Chain Excellence also adapts the use of the SCOR model for an SAP environment, global enterprises, and small businesses to help any organization keep its sales, manufacturing, distribution, and inventory moving in perfect synchronization.
About the Author
PETER BOLSTORFF is President and CEO of SCE Limited, which supports supply chain performance through education, coaching, and process expertise. ROBERT ROSENBAUM, an award-winning journalist, is founder and President of The MarketFarm, which specializes in leveraging technical content. He was the founding editor of the former "Supply Chain Technology News."