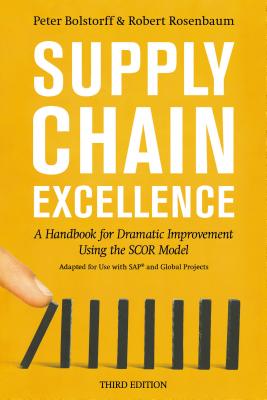 Supply Chain Excellence (Paperback)
A Handbook for Dramatic Improvement Using the Scor Model
Amacom, 9780814437537, 304pp.
Publication Date: December 11, 2011
* Individual store prices may vary.
Description
The gold standard guide to adopting the superior, cross-industry methodologies developed by the Supply Chain Council for achieving operational superiority-the SCOR, DCOR, and CCOR Models-Supply Chain Excellence, now updated in a third edition, is a concise, practical instruction manual to doing supply chain correctly. Now adapted for use in an SAP environment, in global enterprises, and by small businesses, the third edition features a highly compressed timeline for using the SCOR (Supply Chain Operations Reference) framework to plan and execute supply chain improvement. You'll learn how to: - Implement changes to achieve sustainable competitive advantage - Define business opportunities along the supply chain by conducting the proper competitive analysis - Gain buy-in by educating your organization about supply chain improvement - Achieve a significant return on investment Featuring new examples from roughly 30 additional projects, the book identifies the most common contributors to supply chain misalignment, refines the use of the scorecard for better process analysis, extends the approach to encompass implementation and strategy, and quantifies the financial value of supply chain improvement to demonstrate its importance in achieving lasting competitive advantage. If you want to keep your sales, manufacturing, distribution, and inventory moving in perfect synchronization, you need a flawless, repeatable supply chain improvement approach that maximizes process efficiency and eliminates dysfunction. Thoroughly revised to reflect the latest thinking and most up-to-date strategies, the third edition of Supply Chain Excellence is an unparalleled guide for implementing best practices in supply chain management.
About the Author
PETER BOLSTORFF is President and CEO of SCE Limited, which supports supply chain performance through education, coaching, and process expertise. ROBERT ROSENBAUM, an award-winning journalist, is founder and President of The MarketFarm, which specializes in leveraging technical content. He was the founding editor of the former "Supply Chain Technology News."