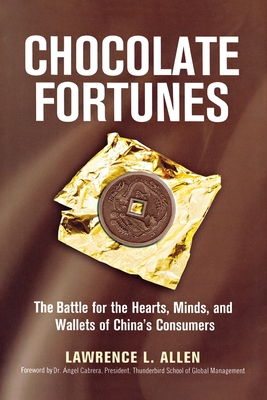 Chocolate Fortunes (Paperback)
The Battle for the Hearts, Minds, and Wallets of China's Consumers
Thomas Nelson, 9780814438121, 256pp.
Publication Date: October 1, 2009
* Individual store prices may vary.
Description
This book is the story of the five global titans of chocolate-Ferrero, Cadbury, Hershey, Nestl , and Mars-that battled to capture a once-in-a-lifetime opportunity to establish their brands with one-fifth of the world's population. It is also the inside story of East meeting West through the introduction into China, a xenophobic land of austerity and deprivation, of an icon of the Western world's decadence and self-indulgence: chocolate. Chocolate Fortunes takes you inside one of global business's most intense, complex, and fascinating market assaults. At its heart, the campaign to turn the Chinese people into chocoholics is really about globalizing the last great frontier. If there is an easy part, seeding an insatiable desire for chocolate may be it. (After all, "who doesn't like chocolate?") But what about building a business from scratch with virtually no precedent? What about navigating a boundless (and ever-shifting) sea of local, provincial, and national laws and regulations before executing even the most pedestrian business activities? While each of the Big Five purveyors profiled in Chocolate Fortunes brought its own identity and strategic vision to the battle theatre, their varying degrees of success or failure hinged on combinations of savvy and circumstance, of perseverance and flexibility, and of textbook business excellence and sheer luck. The lessons learned are at once practically instructive for all internationally minded businesses and fascinating reading in the classic East-meets-West mold.
About the Author
LAWRENCE L. ALLEN (Beijing, China) is a former senior executive for both Hershey and Nestle in China. He has spent more than 20 years building consumer brands for multinational companies in China.