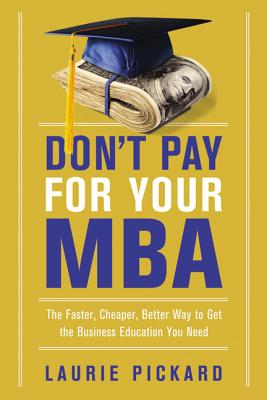 Don't Pay for Your MBA
The Faster, Cheaper, Better Way to Get the Business Education You Need
Paperback

* Individual store prices may vary.
Other Editions of This Title:
Digital Audiobook (9/12/2017)
MP3 CD (9/13/2017)
Compact Disc (9/13/2017)
Compact Disc (9/13/2017)
Description
The average debt load for graduates of the top business schools has now exceeded $100,000 For most young professionals, this means spending the first half of their career in the red and feeling pressure to take the first position offered to them so that they can start paying off their debt. But it doesn't have to be that way Author and businesswoman Laurie Pickard discovered a way to get the business education she needed to land her dream job while avoiding the massive school loans that plague so many. And in Don't Pay for Your MBA, she shares all that she learned so that others can benefit as well.Pickard discovered that the same prestigious business schools that offer the MBAs so many covet also offer MOOCs (massive online open courses) for low or even no cost. By picking the right classes from the best schools, she gained the skills she needed and avoided the debt she could not afford to take on. The most difficult part was knowing how to begin and where to look. So she has provided this resource for other self-starters, career changers, and budding entrepreneurs so that they can best learn how to navigate the expanding universe of online education. Within these pages, learn how to: - Define your goals and tailor a curriculum that is geared toward your dream job- Master the language of business- Build a strong network- Choose a concentration and deepen your expertise- Showcase your nontraditional education in a way that attracts companiesDon't fall for the lies that pressure countless graduates every year into MBA programs and insurmountable debt. Self-directed online learning can fill gaps in your training, position you for promotions, and open up new opportunities--at a fraction of the cost.
Amacom, 9780814438480, 240pp.
Publication Date: November 2, 2017
About the Author
LAURIE PICKARD founded the No-Pay MBA web site, which has been featured in Fortune, Entrepreneur, The Wall Street Journal, CNN Money, Financial Times, and Bloomberg Business. She also works as a business and entrepreneurship development consultant, most recently at the U.S. Agency for International Development in Rwanda.