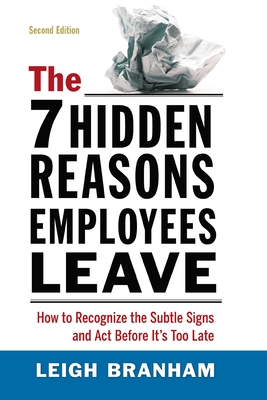 The 7 Hidden Reasons Employees Leave (Paperback)
How to Recognize the Subtle Signs and ACT Before It's Too Late
Amacom, 9780814438510, 240pp.
Publication Date: August 1, 2012
* Individual store prices may vary.
Description
A unique opportunity at another company. A step up in position. More money. We've all heard the familiar explanations offered by employees as they head off to newer--and presumably better--career opportunities. But is employee turnover just "the unavoidable cost of doing business?" Or is there something proactive you and your organization can do to keep your best people around for years to come?
Based on enlightening research, the original edition of The 7 Hidden Reasons Employees Leave revealed that despite what we believe, people are four times more likely to leave a job because of something going on in the workplace than for an outside opportunity. But after the seismic changes that have shaken the economy and the job market these past few years, are the reasons employees leave still the same?
Incorporating the results of more than 1,000 new post-exit surveys asking new questions such as "Was there a triggering event?," "What could your employer have done to make you want to change your mind and stay?," and "Did you look for another job while still employed?," the Second Edition adds new depth and relevance to the original research.
Has money become more of a key issue for people deciding to leave, now that the job market is slowly picking back up? How have workers' evolving thoughts on company culture and integrity--and a growing lack of trust in senior leadership--affected their reasons for staying or leaving? Packed with all new strategies and wisdom, the second edition shows you how to identify the warning signs of unmet expectations, and best act on them. You'll find out how to:
- Use smart talent strategies to avoid employee-job mismatches.
- Incorporate a five-step coaching and feedback process that builds strong and durable working relationships.
- Build an environment of mutual trust and confidence.
- Create growth and advancement oppor­tunities that keep pace with career expectations of all four generations.
- Understand the emotional impact of compensation and recognition done well.
- Leverage exit and turnover data to increase employee retention.
According to more than 80 percent of employees, it's not just seeing greener grass on the other side of the fence that makes them leave; it's the underlying negative factors that exist in their current workplaces. Filled with surprising revelations, this brand new edition of The 7 Hidden Reasons Employees Leave provides up-to-the-minute strategies for holding on to your employees in any market.