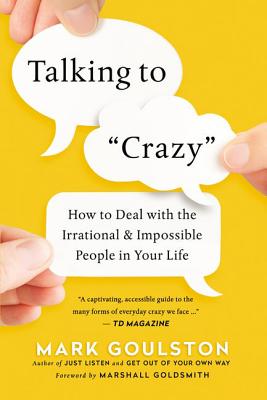 Talking to Crazy (Paperback)
How to Deal with the Irrational and Impossible People in Your Life
Amacom, 9780814439296, 272pp.
Publication Date: July 10, 2018
Other Editions of This Title:
Hardcover (10/15/2015)
MP3 CD (1/12/2016)
* Individual store prices may vary.
Description
"Finally The book that helps you deal with irrational, impossible people." - Oprah's Book Club 2.0 Let's face it: we all know people who are downright irrational. No matter how hard you try to reason with them, it never works. So what's the solution? How do you talk to someone who just won't listen? What can you do with an unrealistic boss, an angry spouse, or an overly emotional friend? You can't win by ignoring the insanity-and you can't argue it away. But you can stop it cold. Top-ranked psychiatrist and communication expert Mark Goulston shows you how in Talking to "Crazy", a life-changing book for everyone trapped in maddening personal or professional relationships. Goulston unlocks the mysteries of the irrational mind, and explains how faulty thinking patterns develop. His keen insights are matched by a set of counterintuitive strategies proven to defuse crazy behavior, along with scripts, examples, and exercises that teach you how to use them. You'll learn: Why people act the way they do * How instinctive responses can exacerbate the situation-and what to do instead * When to confront a problem and when to walk away * How to activate the Sanity Cycle-which quickly transforms you from threat to ally * How to use 14 simple, but effective communication techniques, including assertive submission flattery, the kiss-off, and more * And much more You can't reason with unreasonable people-but you can reach them. This powerful and practical book shows you how.
About the Author
MARK GOULSTON, MD, is a top psychiatrist, business adviser, mentor, and international speaker. Author of the bestselling Just Listen and Get Out of Your Own Way as well as other popular books, he blogs for Harvard Business Review, Fast Company, Business Insider, Huffington Post, and Psychology Today; hosts the "Prison Letters" podcast; and is featured frequently in major media, including The Wall Street Journal, Fortune, Newsweek, Time, CNN, Fox News, and the TODAY show.