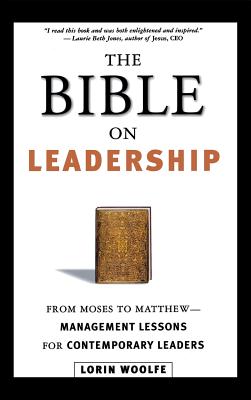 Bible on Leadership (Hardcover)
From Moses to Matthew -- Management Lessons for Contemporary Leaders
Thomas Nelson, 9780814439432, 208pp.
Publication Date: June 18, 2002
* Individual store prices may vary.
Description
Millions have been inspired by the Bible's spiritual lessons. Now, Lorin Woolfe provides a unique way to view the Bible . . . for "leadership" lessons that can be applied to our modern business world.
Consider David's courage and innovation in slaying Goliath with just a stone and a sling; Moses' outstanding ""succession planning"" in picking Joshua; Joseph and the political skills that brought him to the seat of power; and of course, Jesus' compassion, communication skills, and vision that launched Christianity (a long-term success by any measure).
These are leaders among leaders. Their achievements -- and their inspired methods of achievement -- offer a wholly different perspective on business leadership. For the dozens of Biblical stories presented, the book provides:
* A concise retelling of each story
* One (or more) leadership lessons suggested by each story
* Examples of contemporary business leaders who exhibit some of the inspired traits of these ancient leaders, including: Fred Smith of FedEx, Howard Shultz of Starbucks, Tom Chappell of Tom's of Maine (a "toothpaste with a mission"), Roy Vagelos of Merck, and many more.
The chapters cover these universal topics: Courage * Purpose * Communication * Honesty and Integrity * Power and Influence * Performance Management * Team Building * Humility * Compassion * Justice * Encouragement and Consequences * Wisdom * Creating the Future
Each topic concludes with a list of key points to keep in mind as readers continue on their own leadership journeys.