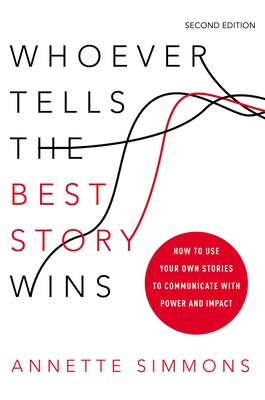 Whoever Tells the Best Story Wins (Hardcover)
How to Use Your Own Stories to Communicate with Power and Impact
Amacom, 9780814449134, 240pp.
Publication Date: May 20, 2015
* Individual store prices may vary.
Description
Stories have tremendous power. They can persuade, promote empathy, and provoke action. Better than any other communication tool, stories explain who you are, what you want...and why it matters. In presentations, department meetings, over lunch-any place you make a case for new customers, more business, or your next big idea-you'll have greater impact if you have a compelling story to relate. Whoever Tells the Best Story Wins will teach you to narrate personal experiences as well as borrowed stories in a way that demonstrates authenticity, builds emotional connections, inspires perseverance, and stimulates the imagination. Fully updated and more practical than ever, the second edition reveals how to use storytelling to: Capture attention * Motivate listeners * Gain trust * Strengthen your argument * Sway decisions * Demonstrate authenticity and encourage transparency * Spark innovation * Manage uncertainty * And more Complete with examples, a proven storytelling process and techniques, innovative applications, and a new appendix on teaching storytelling, Whoever Tells the Best Story Wins hands you the tools you need to get your message across-and connect successfully with any audience.
About the Author
ANNETTE SIMMONS is a keynote speaker, expert storyteller, and president of Group Process Consulting, whose clients include NASA, the IRS, and Microsoft. She is the author of several books including The Story Factor.