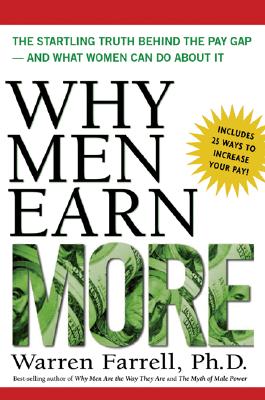 Why Men Earn More (Hardcover)
The Startling Truth Behind the Pay Gap--And What Women Can Do about It
AMACOM/American Management Association, 9780814472101, 270pp.
Publication Date: January 1, 2005
Other Editions of This Title:
Paperback (1/1/2005)
* Individual store prices may vary.
Description
"Controversial and exhaustively researched, gender expert Warren Farrell's latest book Why Men Earn More takes as its stunning argument the idea that bias-based unequal pay for women is largely a myth, and that women are most often paid less than men not because they are discriminated against, but because they have made lifestyle choices that affect their ability to earn.
Why Men Earn More argues that while discrimination sometimes plays a part, both men and women unconsciously make trade-offs that affect how much they earn. Farrell clearly defines the 25 different workplace choices that affect women's and men's incomes -- including putting in more hours at work, taking riskier jobs or more hazardous assignments, being willing to change location, and training for technical jobs that involve less people contact -- and provides readers with specific, research-supported ways for women to earn higher pay.
Why Men Earn More, with its brashness in the face of political correctness, is sure to ignite a storm of media controversy that will help to make this thoroughly pragmatic expose Warren Farrell's next bestseller."
About the Author
Warren Farrell, Ph.D. (Mill Valley, CA) is an internationally esteemed expert on gender issues, and the only man to have been elected three times to the board of directors of the National Organization for Women (NOW) in New York City. Financial Times named Dr. Farrell one of the world's leading thought leaders. He has been interviewed by Larry King, Peter Jennings, and Barbara Walters, and has appeared many times on nationally syndicated TV shows such as Oprah, Donahue, and CNN's Sonya Live. He is the author of many books, including the bestsellers Why Men are the Way They Are and The Myth of Male Power.
or
Not Currently Available for Direct Purchase