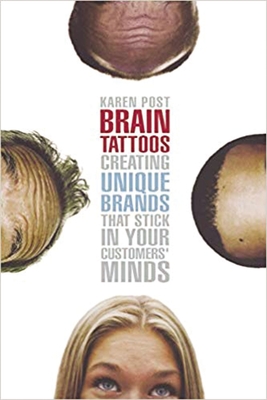 Brain Tattoos (Paperback)
Creating Unique Brands That Stick in Your Customers' Minds
Amacom, 9780814472347, 187pp.
Publication Date: December 10, 2004
* Individual store prices may vary.
Description
"Effective branding depends on the ability to leave a lasting (and positive) impression in the mind of the target audience. Brain Tattoos offers a practical approach -- no complicated theories, marketing jargon, or unnecessary babble -- that lets any business take its brand to the next level. Packed with tools that help readers identify their brand's purpose, personality, promise, and point of difference, Brain Tattoos will help readers: * Develop the courage to break the mold and become truly distinct * Discover ways to enlist customers and others as ""brand ambassadors"" * Grasp their brand's essence * Master brand building on any scale in any industry * Learn how to identify and use the most effective methods of brand communication * Learn how to leverage limited resources creatively Filled with creative ways to maximize market impact, Brain Tattoos is a true ""how-to"" book written with in-the-trenches business and marketing people in mind.
About the Author
Karen Post, The Branding Diva (TM), is a consultant on branding issues. For more than 20 years, she has provided strategic branding counsel and programs for organizations, associations, and individuals. Monthly, she writes a monthly column for Fastcompany.com, and produces BrandBites, a monthly fast brain-food fix on branding matters. She lives in Tampa, Florida.