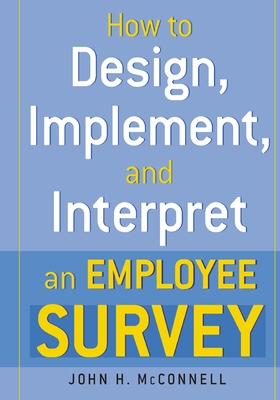 How to Design, Implement, and Interpret and Employee Survey (Paperback)
Amacom, 9780814473382, 360pp.
Publication Date: April 15, 2005
* Individual store prices may vary.
Description
"Employee opinion is the most important barometer of employment conditions at any company. But marshalling hundreds (or thousands) of individual perceptions into a cohesive workplace inititative demands an organized approach. McConnell presents a practical start-to-finish methodology for getting the most out of an employee opinion survey, from determining what conditions to survey to completion of follow-up procedures. Adaptable to any purpose and organization, McConnell's proven strategies cover: * Do's and don'ts of question design * Selecting response type (multi-choice, rating scales, etc.) * Practical methods for ensuring validity and reliability * Survey administration Additional chapters cover the nuts and bolts of implementation, communicating with employees about the survey, and how to score, group, and report survey results. Not least, this crucial book shows how to use survey results as a springboard to improved management/employee communication, working conditions, and productivity. CD-ROM included.
About the Author
John H. McConnell (Morristown, NJ) is the author of "Auditing Your Human Resources Department" (0-8144-7076-9) and "How to Identify Your Organization's Training Needs" (0-8144-0710-2). He is president of McConnell-Simmons and Company, Inc., a human resources consulting firm.