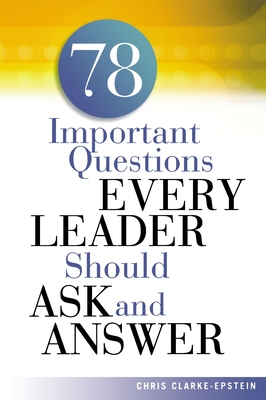 A 78 Important Questions Every Leader Should Ask and Answer (Paperback)
Amacom, 9780814474143, 240pp.
Publication Date: April 23, 2006
* Individual store prices may vary.
Description
"Great leaders have many talents, but one critical skill -- often unrecognized -- is the ability to ask and answer questions. This unique book offers 78 questions that leaders at all levels need to ask and answer both inside and outside the organization.
Leaders who master this question-response technique will gain much useful information about what is really going on in their businesses, as well as the admiration of employees, customers, and others with whom they interact.
The questions and answers cover a range of common and uncommon situations, including: the need to connect employees' efforts to company goals; layoffs, business downturns, and mergers; personal crises of employees; coaching and mentoring sessions; and customer retention. The book even includes advice on answering questions when the answer is ""I don't know"" or ""I can't tell you."" With worksheets in each chapter, it prepares leaders to ask important questions of:
* Customers (""Why do you do business with our competition?"")
* Employees (""What's a recent management decision you didn't understand?"")
* And even themselves (""What do I want to be remembered for?"")
About the Author
Chris Clarke-Epstein (Wausau, WI) is a consultant, seminar leader, and author of several books, including "The Instant Trainer." A noted public speaker, she is past President of the National Speakers Association.