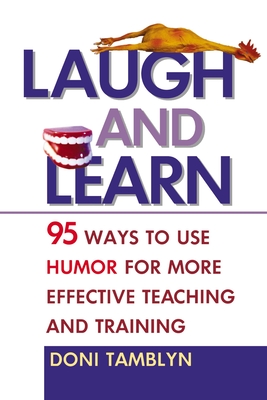 Laugh and Learn (Paperback)
95 Ways to Use Humor for More Effective Teaching and Training
Thomas Nelson, 9780814474150, 224pp.
Publication Date: March 27, 2006
* Individual store prices may vary.
Description
"We may not all be born comedians, but most people are naturally humorous, says Doni Tamblyn, a comic-turned-trainer whose humorous techniques bring serious results at clients such as Chevron, Wells Fargo, and other Fortune 500 companies, universities, and government entities. While Laugh and Learn offers plenty to keep smiles on the faces of trainers and their students, it's not a collection of one-liners and knock-knock jokes. It's an enlightening and practical look at how teachers and training professionals can inject elements of entertainment, creativity, humor, and emotion into their existing methods, even when dealing with serious or technical topics. Filled with fun, challenging, and thought-provoking exercises to help readers feel more comfortable being funny, the book also provides dozens of workshop activities and techniques to introduce humor into the learning environment. Combining the latest brain studies and humor research with the author's own 23 years of experience in comedy and corporate training, Laugh and Learn is a fascinating look at what makes learners perk up, pay attention -- and remember
About the Author
Doni Tamblyn (Philadelphia, PA) is president of HumorRules, a Philadelphia-based consulting firm. She is the author of "The Big Book of Humorous Training Games," a frequent speaker at training conferences, and a former stand-up comic.