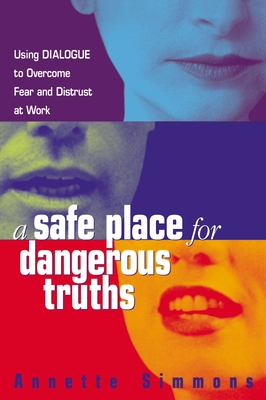 A Safe Place for Dangerous Truths (Paperback)
Using Dialogue to Overcome Fear and Distrust at Work
Amacom, 9780814474174, 261pp.
Publication Date: April 23, 2006
* Individual store prices may vary.
Description
A welcome guide to creating a workplace where people can talk frankly without fear for their jobs...even if it means dredging up deep-buried conflicts or calling attention to their own shortcomings. A behavioral science consultant, Annette Simmons provides the key through the formal process of "dialogue." More than ordinary conversation, this specific group give-and-take technique opens minds, eases, anxiety, and encourages straightforward truth-telling. Simmons firmly believes: "When a group learns how to discuss the undiscussable, they learn how to solve the unsolvable." Packed with step-by-step "how-to" guidelines and helpful scenarios, this book gives readers the critical insights and skills to facilitate the process and bring the power of "dialogue" to any situation. Facilitators will also find pointers on asking the right questions to get a dialogue going, using story telling to bring an issue to life, and knowing when to step back and let the group go it alone. Simmons even provides a sample script for a dialogue session. Lively, down-to-earth, and encouraging, A Safe Place for Dangerous Truths charts a promising path toward renewed authenticity, openness, trust, and creative daring among people who work together.
About the Author
ANNETTE SIMMONS (Greensboro, NC) is president of Group Process Consulting, a behavioral science firm that specializes in building cooperation within organizations to enhance bottom-line results. She is the author of Territorial Games (AMACOM).