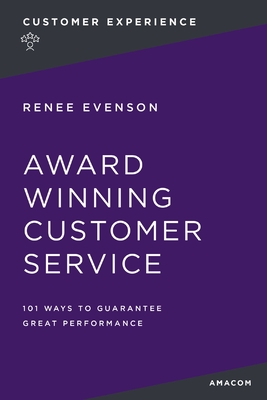 Award-Winning Customer Service (Paperback)
101 Ways to Guarantee Great Performance
AMACOM/American Management Association, 9780814474549, 232pp.
Publication Date: September 18, 2009
* Individual store prices may vary.
Description
Delivering top-of-the-line customer service is Job #1 for most companies, an important factor in keeping profits high and customers coming back. Customer service problems can damage not just a company's reputation but its bottom line, so for busy managers -- and business owners with little time to search for solutions -- some fast help is needed.
"Award-Winning Customer Service "offers scores of quick tips for readers looking to improve and then maintain their company's level of customer service. The book is chock full of practical advice on important topics such as:
* planning and goal setting * effective communication * leadership * preparing for change * continual learning
* coaching and development * effective feedback * motivational and problem-solving meetings * conflict resolution
* follow-up and staying on top of the game * and more.
Containing 101 effective tips in all, unique "When this happens, try this" sections, and encouraging quotes, this is an essential reference for anyone who needs guidance or just a refresher on making customers feel truly valued.
About the Author
Renee Evenson (St. Simons Island, GA) has worked in the customer service management field for 25 years, including 15 years as a customer service manager at BellSouth Telecommunications, where her duties included staff training and development. She is the author of "Customer Service Training 101" (0-8144-7290-7).
or
Not Currently Available for Direct Purchase