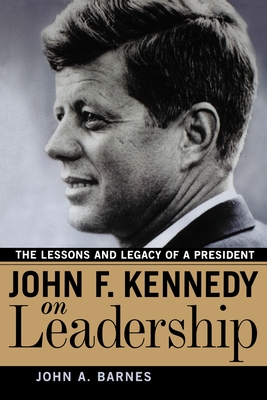 John F. Kennedy on Leadership (Paperback)
The Lessons and Legacy of a President
Thomas Nelson, 9780814474556, 228pp.
Publication Date: October 17, 2008
* Individual store prices may vary.
Description
Today's business leaders have much in common with President Kennedy. They face monumental decisions in unpredictable times; their actions have implications far beyond their own organizations; and they are judged mercilessly and incessantly by both their constituents and the media. Professionals, then, would do well to study the leadership traits that made Kennedy one of the most respected, beloved, and influential world leaders in modern history. "John F. Kennedy on Leadership" analyzes what made Kennedy, both before and during his Presidency, a unique and dominant force who would serve as the standard by which future leaders would be judged. Readers will learn the value of:
* Planning and decision making: Consult widely, then act.
* Crisis management: Don't let events manage you.
* Building a team: Find your own "Bobby."
* Independence: Don't follow the crowd.
* Mistakes: Learn from them and move on.
This timely (and timeless) book will be of interest to anyone involved in leadership.
About the Author
John A. Barnes "(New York, NY)" is the author of "Ulysses S. Grant on Leadership," and has been a journalist, writer, and television commentator for more than 18 years. His columns have appeared in "The Boston Herald," "The Detroit News," and "The New York Post."