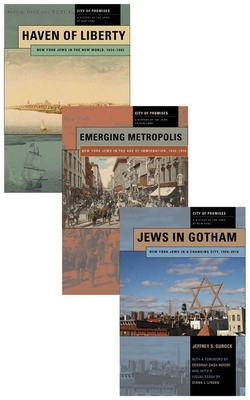 City of Promises (Boxed Set)
A History of the Jews of New York, 3-Volume Box Set
New York University Press, 9780814717318, 1108pp.
Publication Date: September 10, 2012
* Individual store prices may vary.
Description
- "Bold, well-researched and beautifully-illustrated... A remarkable accomplishment." - Jonathan D. Sarna, Chief Historian, National Museum of American Jewish History - "Prodigious research and lucid prose." - Hasla R. Diner, Director, Goldstein-Goren Center for American Jewish History - "A riveting account... Polland and Soyer bring the city's spaces to life." - Beth S. Wenger, Director, Jewish Studies Program, University of Pennsylvania - "Masterful and sensitively drawn... a penetrating blend of distinguished scholarship and acute observation... A vivid, richly detailed, and endlessly fascinating narrative... Balanced, engrossing, and learned. Read and enjoy " - Thomas Kessner, Distinguished Professor of History, City University of New York Graduate School - "Lively, much-needed... All three volumes are briskly paced, well-researched and insightful." - Starred Kirkus - "A highly valuable and vastly immersing study." - Publishers Weekly - "An important contribution to our understanding of New York's Jews." - The Buffalo Jewish Review - "Will long remain an invaluable resource." - Choice "A whopping big yarn, a moveable feast of a story." - Jewish Review of Books.