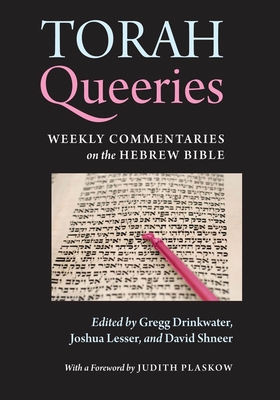 Torah Queeries
Weekly Commentaries on the Hebrew Bible
Hardcover

* Individual store prices may vary.
Other Editions of This Title:
Paperback (8/22/2012)
Description
In the Jewish tradition, reading of the Torah follows a calendar cycle, with a specific portion assigned each week. These weekly portions, read aloud in synagogues around the world, have been subject to interpretation and commentary for centuries. Following on this ancient tradition, Torah Queeries brings together some of the world's leading rabbis, scholars, and writers to interpret the Torah through a "bent lens". With commentaries on the fifty-four weekly Torah portions and six major Jewish holidays, the concise yet substantive writings collected here open up stimulating new insights and highlight previously neglected perspectives.
This incredibly rich collection unites the voices of lesbian, gay, bisexual, transgender, and straight-allied writers, including some of the most central figures in contemporary American Judaism. All bring to the table unique methods of reading and interpreting that allow the Torah to speak to modern concerns of sexuality, identity, gender, and LGBT life. Torah Queeries offers cultural critique, social commentary, and a vision of community transformation, all done through biblical interpretation. Written to engage readers, draw them in, and, at times, provoke them, Torah Queeries examines topics as divergent as the Levitical sexual prohibitions, the experience of the Exodus, the rape of Dinah, the life of Joseph, and the ritual practices of the ancient Israelites. Most powerfully, the commentaries here chart a future of inclusion and social justice deeply rooted in the Jewish textual tradition.
A labor of intellectual rigor, social justice, and personal passions, Torah Queeries is an exciting and important contribution to the project of democratizing Jewish communities, and an essential guide to understanding the intersection of queerness and Jewishness.
New York University Press, 9780814720127, 349pp.
Publication Date: October 28, 2009
About the Author
Gregg Drinkwater (Editor) Gregg Drinkwater is Director for Special Projects at Keshet, an organization working for the full inclusion of LGBT Jews in Jewish life. Joshua Lesser (Editor) Joshua Lesser is the rabbi of Bet Haverim in Atlanta, Georgia, and the founder of the Rainbow Center: A Jewish Response to LGBT people and their families. David Shneer (Editor) David Shneer is Director of the Program in Jewish Studies and Associate Professor of History at the University of Colorado at Boulder. Judith Plaskow (Foreword by) Judith Plaskow is Professor Emerita of Religious Studies at Manhattan College.