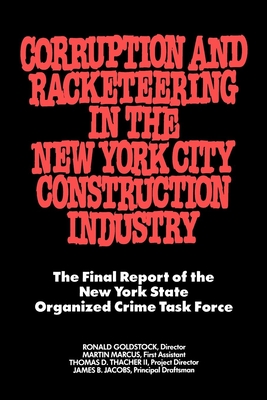 Corruption and Racketeering in the New York City Construction Industry
The Final Report of the New York State Organized Crime Taskforce
Paperback

* Individual store prices may vary.
Description
This book, Corruption and Racketeering In The New York City Construction Industry: The Final Report of the New York State Organized Task Force, lays out in close and compelling detail the intricate patterns of currupt activities and relationships that for the better part of a century have characterized business as usual in the construction industry in America's largest metropolis.
The book is the end product of more than five years' worth of investigation, prosecutions, and research by the New York State Organized Crime Task Force, a unique agency that has set a national example for marrying law enforcement initiatives with comprehensive and exhausting analysis of the causes and dynamics of industrial racketeering. This is a sobering analysis of the construction industry, one of New York City's largest industries, and in effect, one of the city's most significant economic sectors. In any given year during the 1980s, billions of dollars of construction were being carried out at any one time. The industry regularly employs more than 100,000 people in the city, involving some one hundred union locals and many hundreds of general and specialty contractors as well as a large number of architects, engineers, and materials suppliers. The book shows--in great and provocative detail--how organized extortion, bribery illegal cartels, and bid rigging characterize construction in the city. The basis for much of this crim is labor racketeering, controlled or orchestrated by organized crime. It reveals how this world of corruption affects not only the private sector but the city's vast public works program, and it spells out the ways in which both organized crime and official corruption each sustain the dynamics of ongoing criminality.
Wrong-doing on a massive scale is documented at length. But this book is more than a recitation of extensive and systematic criminality. The book recommends a number of plausible options for genuine reform. Necessarily these are profound and radical solutions, but everyone who reads this book will conclude that only profound and radical solutions could hope to solve such an entrenched and intractable crime problem.
New York University Press, 9780814730348, 316pp.
Publication Date: January 1, 1991
About the Author
Ronald Goldstock, Director of the New York State Organized Crime Task Force and Professor of Law at Cornell Law School, is one of the nation's leading authorities and theorists on the subject of organized crime. Martin Marcus, First Assistant for Field Operations who oversaw the legal work of the Task Force, has subsequently been appointed a Judge of the New York Court of Claims.Thomas D. Thacher II is the Executive Director of the Construction Industry Project. He has supervised the criminal investigations of the construction industry and the writing of the Report. James B. Jacobs is Professor of Law and Director of the Center for Research in Crime and Justice at New York University. He was the principal draftsman and consultant coordinator for the Report.