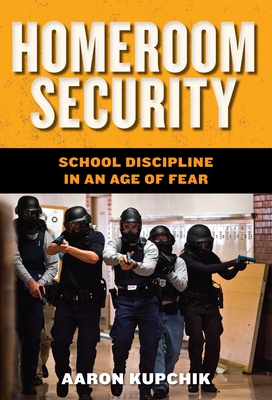 Homeroom Security (Hardcover)
School Discipline in an Age of Fear (Youth)
New York University Press, 9780814748206, 261pp.
Publication Date: August 2, 2010
Other Editions of This Title:
Paperback (8/20/2012)
* Individual store prices may vary.
Description
Police officers, armed security guards, surveillance cameras, and metal detectors are common features of the disturbing new landscape at many of today's high schools. You will also find new and harsher disciplinary practices: zero-tolerance policies, random searches with drug-sniffing dogs, and mandatory suspensions, expulsions, and arrests, despite the fact that school crime and violence have been decreasing nationally for the past two decades. While most educators, students, and parents accept these harsh policing and punishment strategies based on the assumption that they keep children safe, Aaron Kupchik argues that we need to think more carefully about how we protect and punish students.
In Homeroom Security, Kupchik shows that these policies lead schools to prioritize the rules instead of students, so that students' real problems--often the very reasons for their misbehavior--get ignored. Based on years of impressive field research, Kupchik demonstrates that the policies we have zealously adopted in schools across the country are the opposite of the strategies that are known to successfully reduce student misbehavior and violence. As a result, contemporary school discipline is often unhelpful, and can be hurtful to students in ways likely to make schools more violent places. Furthermore, those students who are most at-risk of problems in schools and dropping out are the ones who are most affected by these counterproductive policies. Our schools and our students can and should be safe, and Homeroom Security offers real strategies for making them so.
About the Author
Aaron Kupchik is Associate Professor in the Department of Sociology and Criminal Justice at the University of Delaware. He is the author of Judging Juveniles: Prosecuting Adolescents in Adult and Juvenile Courts (NYU Press), winner of the 2007 American Society of Ciminology Michael J. Hindelang Award for the Most Outstanding Contribution to Research in Criminology.