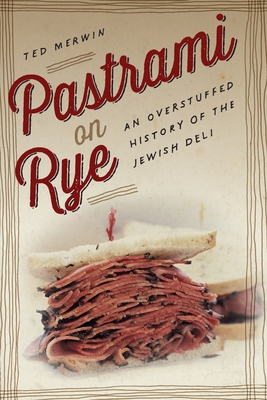 Pastrami on Rye
An Overstuffed History of the Jewish Deli
Hardcover

* Individual store prices may vary.
Other Editions of This Title:
Paperback (10/2/2018)
Description
Winner of the 2015 National Jewish Book Award in Education and Jewish Identity from the Jewish Book Council
The history of an iconic food in Jewish American culture
For much of the twentieth century, the New York Jewish deli was an iconic institution in both Jewish and American life. As a social space it rivaled-and in some ways surpassed-the synagogue as the primary gathering place for the Jewish community. In popular culture it has been the setting for classics like When Harry Met Sally. And today, after a long period languishing in the trenches of the hopelessly old-fashioned, it is experiencing a nostalgic resurgence.
Pastrami on Rye
is the first full-length history of the New York Jewish deli. The deli, argues Ted Merwin, reached its full flowering not in the immigrant period, as some might assume, but in the interwar era, when the children of Jewish immigrants celebrated the first flush of their success in America by downing sandwiches and cheesecake in theater district delis. But it was the kosher deli that followed Jews as they settled in the outer boroughs of the city, and that became the most tangible symbol of their continuing desire to maintain a connection to their heritage. Ultimately, upwardly mobile American Jews discarded the deli as they transitioned from outsider to insider status in the middle of the century. Now contemporary Jews are returning the deli to cult status as they seek to reclaim their cultural identities. Richly researched and compellingly told, Pastrami on Rye gives us the surprising story of a quintessential New York institution.
New York University Press, 9780814760314, 256pp.
Publication Date: October 6, 2015
About the Author
Ted Merwin is Associate Professor of Religion and Judaic Studies at Dickinson College (PA), where he is Founding Director of the Milton B. Asbell Center for Jewish Life. He writes about Jewish theater, dance, and food for the New York Jewish Week and other major newspapers and magazines.