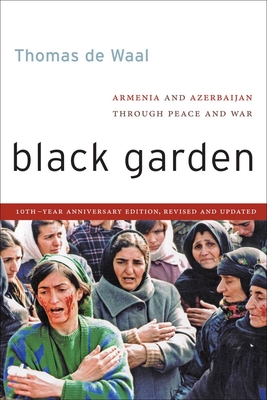 Black Garden
Armenia and Azerbaijan Through Peace and War
Paperback

* Individual store prices may vary.
Other Editions of This Title:
Digital Audiobook (6/14/2021)
Description
"Brilliant."--Time
"Admirable, rigorous. De Waal is] a wise and patient reporter."--The New York Review of Books "Never have all the twists and turns, sad carnage, and bullheadedness on all side been better described--or indeed, better explained...Offers a deeper and more compelling account of the conflict than anyone before."--Foreign Affairs Since its publication in 2003, the first edition of Black Garden has become the definitive study of how Armenia and Azerbaijan, two southern Soviet republics, were pulled into a conflict that helped bring them to independence, spell the end the Soviet Union, and plunge a region of great strategic importance into a decade of turmoil. This important volume is both a careful reconstruction of the history of the Nagorny Karabakh
conflict since 1988 and on-the-spot reporting of the convoluted aftermath. Part contemporary history, part travel book, part political analysis, the book is based on six months traveling through the south Caucasus, more than 120 original interviews in the region, Moscow, and Washington, and unique historical primary sources, such as Politburo archives. The historical chapters trace how the conflict lay unresolved in the Soviet era; how Armenian and Azerbaijani societies unfroze it; how the Politiburo failed to cope with the crisis; how the war was fought and ended; how the international community failed to sort out the conflict. What emerges is a complex and subtle portrait of a beautiful and fascinating region, blighted by historical prejudice and
conflict. The revised and updated 10th-year anniversary edition includes a new forward, a new chapter covering developments up to-2011, such as the election of new presidents in both countries, Azerbaijan's oil boom and the new arms race in the region, and a new conclusion, analysing the reasons for the intractability of the conflict and whether there are any prospects for its resolution. Telling the story of the first conflict to shake Mikhail Gorbachev's Soviet Union, Black Garden remains a central account of the reality of the post-Soviet world.
New York University Press, 9780814760321, 406pp.
Publication Date: July 8, 2013
About the Author
Thomas de Waal has reported on Russia and the Caucasus since 1993 for the Moscow Times, The Times of London, The Economist, and the BBC World Service. He is currently Senior Associate, Caucasus at the Carnegie Endowment for International Peace. His publications include, most recently, The Caucasus: An Introduction.