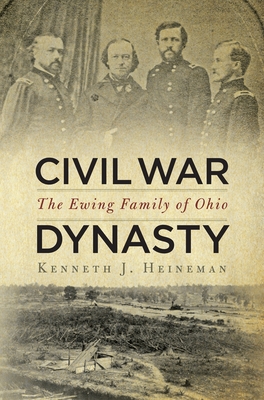 Civil War Dynasty (Hardcover)
The Ewing Family of Ohio
New York University Press, 9780814773017, 385pp.
Publication Date: December 24, 2012
* Individual store prices may vary.
Description
For years the Ewing family of Ohio has been lost in the historical shadow cast by their in-law, General William T. Sherman. In the era of the Civil War, it was the Ewing family who raised Sherman, got him into West Point, and provided him with the financial resources and political connections to succeed in war. The patriarch, Thomas Ewing, counseled presidents and clashed with radical abolitionists and southern secessionists leading to the Civil War. Three Ewing sons became Union generals, served with distinction at Antietam and Vicksburg, marched through Georgia, and fought guerrillas in Missouri. The Ewing family stood at the center of the Northern debate over emancipation, fought for the soul of the Republican Party, and waged total war against the South. In Civil War Dynasty, Kenneth J. Heineman brings to life this drama of political intrigue and military valor--warts and all. This work is a military, political, religious, and family history, told against the backdrop of disunion, war, violence, and grief.
About the Author
Kenneth J. Heineman is Professor of History and Department Chair at Angelo State University. He is the author of Campus Wars: The Peace Movement At American State Universities in the Vietnam Era (NYU Press, 1992), God Is a Conservative: Religion, Politics, and Morality in Contemporary America (NYU Press, 1998), A Catholic New Deal: Religion and Reform in Depression Pittsburgh, and Put Your Bodies Upon The Wheels: Student Revolt in the 1960s.