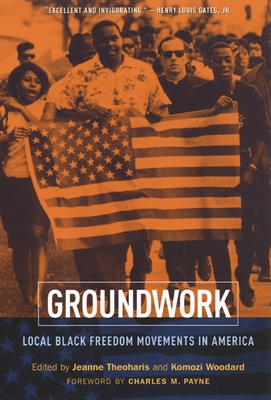 Groundwork
Local Black Freedom Movements in America
Paperback

* Individual store prices may vary.
Other Editions of This Title:
Hardcover (1/1/2005)
Description
Over the last several years, the traditional narrative of the civil rights movement as largely a southern phenomenon, organized primarily by male leaders, that roughly began with the 1955 Montgomery Bus Boycott and ended with the Voting Rights Act of 1965, has been complicated by studies that root the movement in smaller communities across the country. These local movements had varying agendas and organizational development, geared to the particular circumstances, resources, and regions in which they operated. Local civil rights activists frequently worked in tandem with the national civil rights movement but often functioned autonomously from--and sometimes even at odds with--the national movement.
Together, the pathbreaking essays in Groundwork teach us that local civil rights activity was a vibrant component of the larger civil rights movement, and contributed greatly to its national successes. Individually, the pieces offer dramatic new insights about the civil rights movement, such as the fact that a militant black youth organization in Milwaukee was led by a white Catholic priest and in Cambridge, Maryland, by a middle-aged black woman; that a group of middle-class, professional black women spearheaded Jackson, Mississippi's movement for racial justice and made possible the continuation of the Freedom Rides, and that, despite protests from national headquarters, the Brooklyn chapter of the Congress of Racial Equality staged a dramatic act of civil disobedience at the 1964 World's Fair in New York.
No previous volume has enabled readers to examine several different local movements together, and in so doing, Groundwork forges a far more comprehensive vision of the black freedom movement.
New York University Press, 9780814782859, 328pp.
Publication Date: January 1, 2005
About the Author
Jeanne Theoharis is Professor of Political Science at Brooklyn College, City University of New York and co-editor (with Komozi Woodard) of Groundwork: Local Black Freedom Movements (NYU Press).