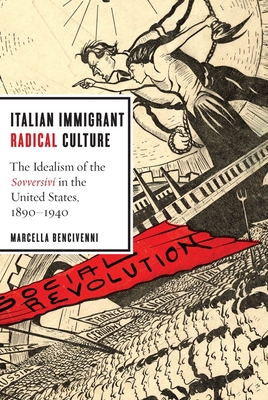 Italian Immigrant Radical Culture (Hardcover)
The Idealism of the Sovversivi in the United States, 1890-1940
New York University Press, 9780814791035, 279pp.
Publication Date: May 9, 2011
Other Editions of This Title:
Paperback (2/1/2014)
* Individual store prices may vary.
Description
Maligned by modern media and often stereotyped, Italian Americans possess a vibrant, if largely forgotten, radical past. In Italian Immigrant Radical Culture, Marcella Bencivenni delves into the history of the sovversivi, a transnational generation of social rebels, and offers a fascinating portrait of their political struggle as well as their milieu, beliefs, and artistic creativity in the United States.
As early as 1882, the sovversivi founded a socialist club in Brooklyn. Radical organizations then multiplied and spread across the country, from large urban cities to smaller industrial mining areas. By 1900, thirty official Italian sections of the Socialist Party along the East Coast and countless independent anarchist and revolutionary circles sprang up throughout the nation. Forming their own alternative press, institutions, and working class organizations, these groups created a vigorous movement and counterculture that constituted a significant part of the American Left until World War II.
Italian Immigrant Radical Culture compellingly documents the wide spectrum of this oppositional culture and examines the many cultural and artistic forms it took, from newspapers to literature and poetry to theater and visual art. As the first cultural history of Italian American activism, it provides a richer understanding of the Italian immigrant experience while also deepening historical perceptions of radical politics and culture.
See the official website of the book at:
http: //www.marcellabencivenni.com
About the Author
Marcella Bencivenni is an associate professor of history at Hostos Community College (CUNY). Besides her recent book, Italian Immigrant Radical Culture, she has written numerous articles about American labor, immigration and Italian American history, and has co-edited with Ron Hayduk Radical Perspectives on Immigration for the journal Socialism and Democracy of which she is an editorial board member.