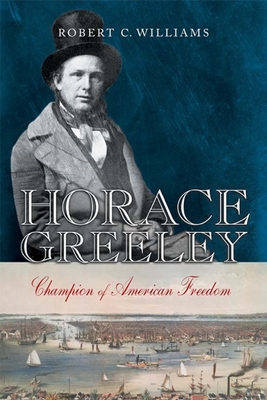 Horace Greeley
Champion of American Freedom
Hardcover

* Individual store prices may vary.
Description
From his arrival in New York City in 1831 as a young printer from New Hampshire to his death in 1872 after losing the presidential election to General Ulysses S. Grant, Horace Greeley (b. 1811) was a quintessential New Yorker. He thrived on the city's ceaseless energy, with his New York Tribune at the forefront of a national revolution in reporting and transmitting news. Greeley devoured ideas, books, fads, and current events as quickly as he developed his own interests and causes, all of which revolved around the concept of freedom. While he adored his work as a New York editor, Greeley's lifelong quest for universal freedom took him to the edge of the American frontier and beyond to Europe. A major figure in nineteenth-century American politics and reform movements, Greeley was also a key actor in a worldwide debate about the meaning of freedom that involved progressive thinkers on both sides of the Atlantic, including Margaret Fuller, Ralph Waldo Emerson, and Karl Marx.
Greeley was first and foremost an ardent nationalist who devoted his life to ensuring that America live up to its promises of liberty and freedom for all of its members. Robert C. Williams places Greeley's relentless political ambitions, bold reform agenda, and complex personal life into the broader context of freedom. Horace Greeley is as rigorous and vast as Greeley himself, and as America itself in the long nineteenth century.
In the first comprehensive biography of Greeley to be published in nearly half a century, Williams captures Greeley from all sides: editor, reformer, political candidate, eccentric, and trans-Atlantic public intellectual; examining headlining news issues of the day, including slavery, westward expansion, European revolutions, the Civil War, the demise of the Whig and the birth of the Republican parties, transcendentalism, and other intellectual currents of the era.
New York University Press, 9780814794029, 440pp.
Publication Date: May 1, 2006
About the Author
Robert C. Williams is Vail Professor of History Emeritus at Davidson College and lecturer in history at Bates College. His books include "Klaus Fuchs: Atom Spy"; "Russian Art and American Money, 1900-1940"; and "The American Atom: A Documentary History of Nuclear Energy" (with Philip Cantelon). He lives in Center Lovell, Maine.