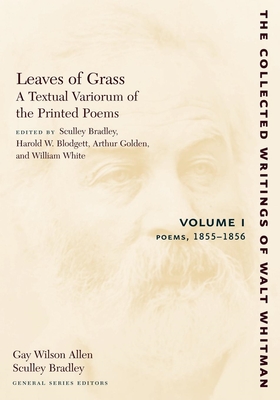 Leaves of Grass, a Textual Variorum of the Printed Poems
Volume I: Poems: 1855-1856 (Collected Writings of Walt Whitman #8)
Paperback

* Individual store prices may vary.
Other Editions of This Title:
Paperback (2/1/2008)
Paperback (2/1/2008)
Paperback (2/1/2008)
Description
Throughout his life, Walt Whitman continually revised and re-released Leaves of Grass. He added and deleted words, emended lines, divided poems, dropped and created titles, and shifted the order of poems. Leaves of Grass: A Textual Variorum of the Printed Poems includes all the variants that Whitman ever published, from the collection's first appearance in 1855 through the posthumous "Old Age Echoes" annex printed in 1897. Each edition was unique, with its own character and emphasis, and the Textual Variorum enables scholars to follow the development of both the individual poems and the work as a whole.
Volume I contains introductory material, including a chronology of the poems and a summary of all the editions and annexes, along with the poems from 1855 and 1856. Volume II includes the poems from 1860 through 1867, including the first appearance of "When Lilacs Last in the Door-Yard Bloom'd" and "O Captain my Captain " Volume III features the poems 1870-1891, plus the "Old Ages Annex" and an index to the three-volume set.
New York University Press, 9780814794425, 256pp.
Publication Date: February 1, 2008
About the Author
Sculley Bradley was Vice-Chancellor of the University of Pennsylvania.