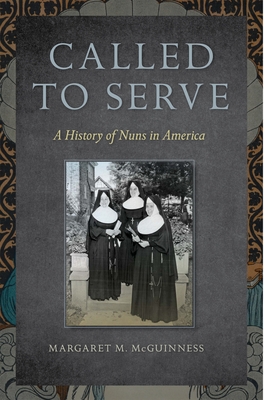 Called to Serve
A History of Nuns in America
Paperback

* Individual store prices may vary.
Other Editions of This Title:
Hardcover (3/4/2013)
Description
Winner, Conference on the History of Women Religious (CHWR) Distinguished Book Award
Winner, 2014 Catholic Book Award in History presented by the Catholic Press Association
For many
Americans, nuns and sisters are the face of the Catholic Church. Far more
visible than priests, Catholic women religious teach at schools, found
hospitals, offer food to the poor, and minister to those in need. Their work
has shaped the American Catholic Church throughout its history. Yet despite
their high profile, a concise history of American Catholic sisters and nuns has
yet to be published. In Called to Serve, Margaret
M. McGuinness provides the reader with an overview of the history of Catholic
women religious in American life, from the colonial period to the present. The early
years of religious life in the United States found women religious in immigrant
communities and on the frontier, teaching, nursing, and caring for marginalized
groups. In the second half of the twentieth century, however, the role of women
religious began to change. They have fewer members than ever, and their
population is aging rapidly. And the method of their ministry is changing as
well: rather than merely feeding and clothing the poor, religious sisters are
now working to address the social structures that contribute to poverty,
fighting what one nun calls "social sin." In the face of a changing world and shifting priorities, women religious
must also struggle to strike a balance between the responsibilities of their
faith and the limitations imposed upon them by their church. Rigorously
researched and engagingly written, Called
to Serve offers a compelling portrait of Catholic women religious
throughout American history.
New York University Press, 9780814795576, 277pp.
Publication Date: December 1, 2015