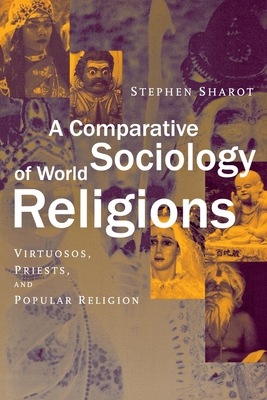 A Comparative Sociology of World Religions (Paperback)
Virtuosi, Priests, and Popular Religion
New York University Press, 9780814798058, 353pp.
Publication Date: August 1, 2001
Other Editions of This Title:
Hardcover (8/1/2001)
* Individual store prices may vary.
Description
A Sociology of World Religions presents a comparative analysis of the world's religions, focusing on the differences and interrelationships between religious elites and lay masses. In each case the volume contextualizes how the relationships between these two religious forms fit within, and are influenced by, the wider socio-political environment.
After introducing the book's major themes, the volume introduces and builds upon an analysis of Weber's model of religious action, drawing on Durkheim, Marxist scholars, and the work of contemporary sociologists and anthropolgists. The following chapters each focus on major religious cultures, including Hinduism, Buddhism, Catholicism, Protestantism, Islam, Judaism, and the religions of China and Japan. This ambitious project is the first to offer a comparison of the popular, or folk, forms of religion around the world.
Sharot's accessible introductions to each of the world religions, synthesizing a vast literature on popular religion from sociology, anthropology, and historians of religion, make the project ideal for course use. His comparative approach and original analyses will prove rewarding even for experts on each of the world religions.
About the Author
Stephen Sharot is Professor of Sociology at Ben-Gurion University of the Negev, and has been Visiting Associate Professor of Sociology at Chapel Hill, and at SUNY Stony Brook. He is the author of Judaism: A Sociology and Messianism, Mysticism, and Magic: A Sociological Analysis of Jewish Religious Movements (winner of the Kenneth B. Smilen/Present Tense Literary Award) and coauthor of Ethnicity, Religion, and Class in Israeli Society.